Drew Barrymore recently shared a throwback photo of a time when she went clubbing with rocker Billy Idol in 1986 at Limelight. She posted the photo where she is hanging out with Idol, while he makes a silly face at the camera. Unlike most 11-year-olds, Barrymore spent more time at clubs than in the classroom. And while the photo features Barrymore when she was heading into a deep drug problem, she ultimately reunited with Idol 12 years later and in a much better place.
Drew Barrymore spent more time at Studio 54 than at school
Barrymore said her mother treated her more as a friend than her daughter. "I had a mom, but she was more like my best friend," she told Norm Macdonald for his 2018 Netflix special, Today reports. "She was like, 'Do you want to go to school and get bullied all day, or do you want to go to Studio 54?' And I was like, 'Yes, absolutely! I don't want to spend the day with these little f**kers who are just awful.' Kids are so mean."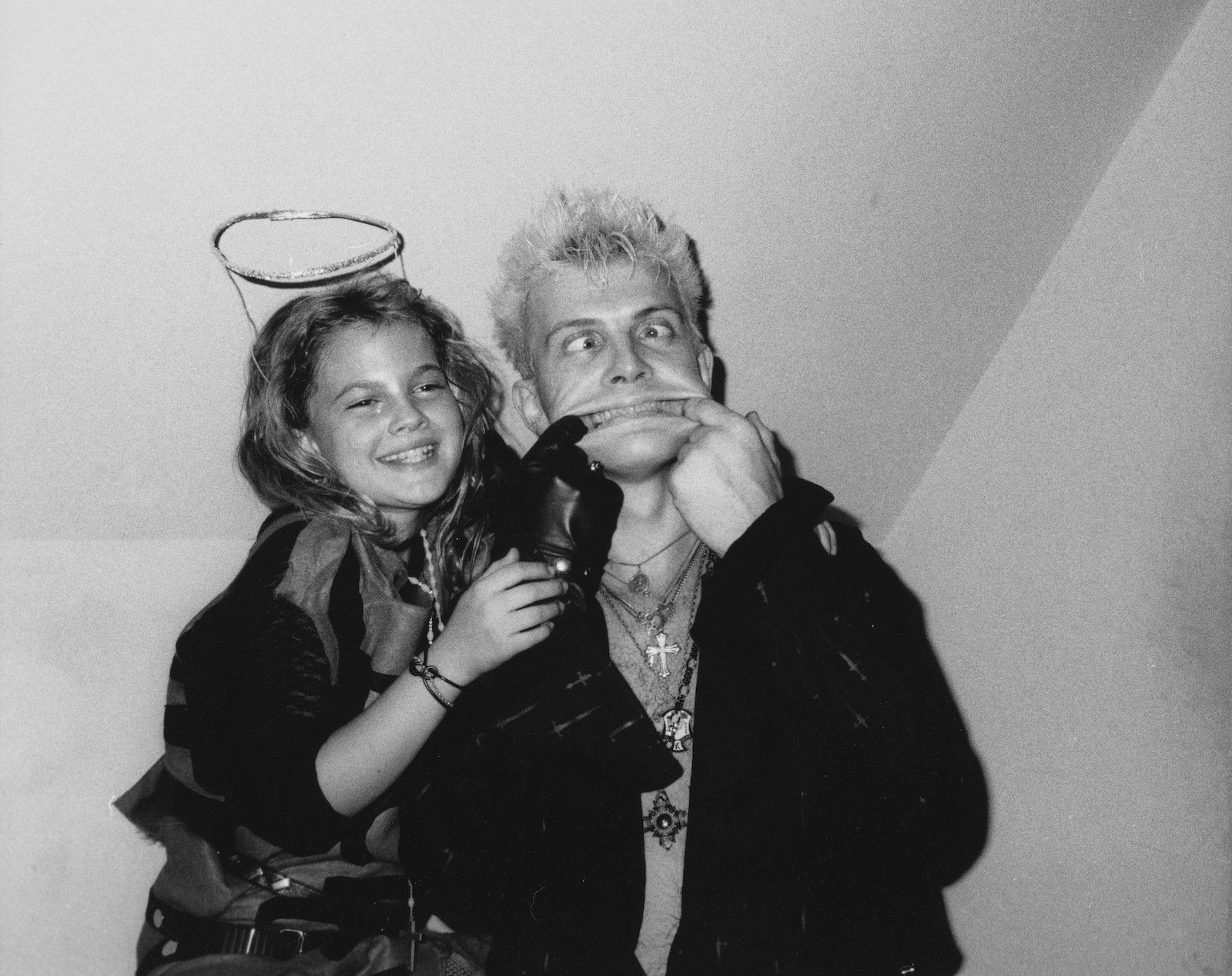 When Macdonald asked if she missed hard-partying, she said definitely not. "No. Oh, God, I mean, it's been a very long time, but no," she remarked. "Nothing would make me have a panic attack and seem like a bigger nightmare. I never did hallucinogenics … but I drink and I enjoy my life and get out of my own head. It's not like I'm this militant person of clarity and presence but (cocaine) literally seems like my worst nightmare right now."
Drew Barrymore reveals that she was institutionalized
Being given free rein to do what she wanted ended up backfiring on the family. She became depressed and angry at age 13. "When I was 13, that was probably the lowest," she said in an interview with The Guardian. "Just knowing that I really was alone. And it felt… terrible. It was a really rebellious time. I would run off. I was very, very angry."
Unable to handle her child, Barrymore's mother institutionalized her. "They were pretty out there! But I realized, honestly, yeah, my mom locked me up in an institution. Boo hoo! But it did give an amazing discipline. It was like serious recruitment training and boot camp, and it was horrible and dark and very long-lived, a year and a half, but I needed it. I needed that whole insane discipline. My life was not normal. I was not a kid in school with normal circumstances. There was something very abnormal, and I needed some severe shift." Barrymore remained at the institution for a year and a half. Eventually, Barrymore was emancipated from her mother at age 14.
Drew Barrymore and Billy Idol come full circle in 'The Wedding Singer'
From there she spent years rebuilding her life and returned to acting. She acted and produced a slew of iconic and memorable films like Never Been Kissed, Charlie's Angels, and Whip It, to name just a few. Barrymore also starred in the quirky Santa Clarita Diet before embarking upon a new project – a talk show. The Drew Barrymore Show is now in its second season.
She also made The Wedding Singer, which was when she was reunited with Idol. He was giddy when he read the script and his cameo. "I read the script, and I was just cracking up right from the first couple pages," he told Stereogum. "I've read quite a few scripts, and sometimes you're left quite cold. The Wedding Singer was just a funny idea. My son was really young, but I was taking him to see Adam [Sandler]'s films, Happy Gilmore and stuff. I'm taking my son to see his films anyway, kind of fantastic to be in one, and then to be the Cupid that's going to bring the lovers together — that's almost hilarious. A punk rock Cupid."
Source: Read Full Article