The 'Kiss Me More' hitmaker is caught exhaling a cloud of vapor in the background of the Vogue livestream, nearly a year after she had an abscess surgically removed from her throat.
AceShowbiz –Doja Cat broke an important rule at the Met Gala when attending the event on Monday night, May 1. The 27-year-old singer/raptress was caught vaping on the red carpet at Vogue's prestigious ball despite Anna Wintour's strict rule against smoking.
In a video which has gone viral, the "So High" femcee was seen having a vape in her mouth and exhaling a cloud of smoke in the background of the Vogue livestream. She was seemingly waiting in line for her turn while Jennie of BLACKPINK got interviewed by a red carpet correspondent.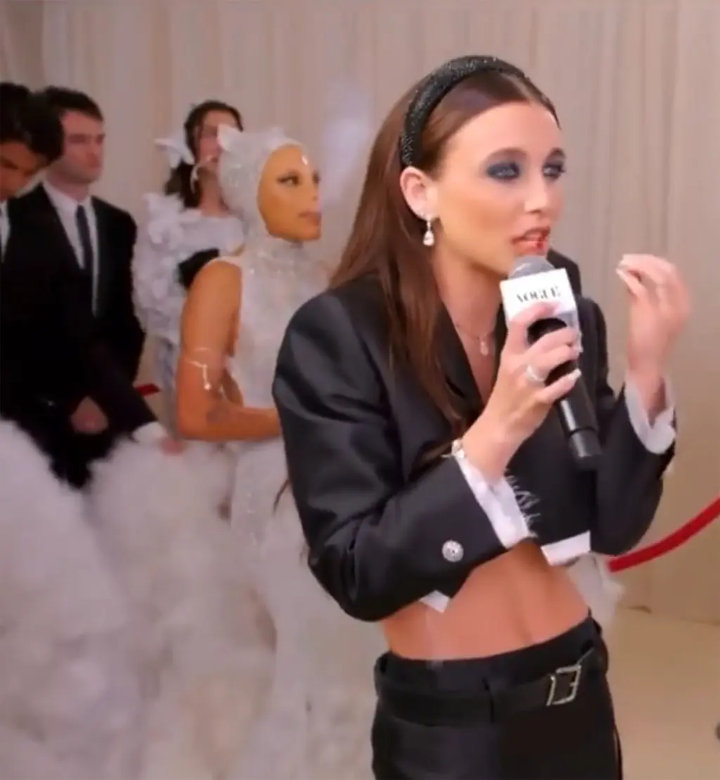 Doja Cat was caught smoking vape at the 2023 Met Gala.
Doja, whose real name is Amala Ratna Zandile Dlamini, was soon slammed by Internet users for refusing to adhere to the Met Gala rule. "Can she like take something serious for once ? What happened to having class ?" someone wrote on Twitter.
Someone predicted that Doja will never be invited to Met Gala again after irritating Vogue editor-in-chief Anna. "She probably not gonna be invited again after this," a second user wrote. A third critic said, "doja's a** is never being invited back to the met gala because she was vaping i'm crying."
Some others pointed out that Doja got tonsil infection nearly one year ago. "Didn't she have throat surgery?! Omg," a shocked fan commented. Another baffled user asked, "did she or did she not like JUST have throat surgery and cancel her tour cause of vaping? Lmaooo."
However, when reached for comments on Doja's act, reps for the star told Daily Mail that there was no nicotine in the device and that it only had contained a flavored water vapor.
In May 2022, Doja revealed that she had a surgery to remove an abscess from her throat. "dr. just had to cut into my left tonsil. i had an abscess in it. my whole throat is f**ked so i might have some bad news for yall coming soon," she announced on Twitter at the time.
Giving away details of how her infected tonsil got worse, Doja continued, "nah so my tonsils got infected before bbmas and i was taking f**kin antibiotics but forgot that i was taking them and then i drank wine and was vaping all day long and then i started getting a nasty a** growth on my tonsil so they had to do surgery on it today."
The Grammy winner admitted that her smoking habit exacerbated her condition before the surgery. She divulged, "then its like imagine all that wierd poisonous s**t in the vape seeping into the completely open wound in my throat like f**k that. im hella young."
She, however, refused to follow a fan's advice to throw her vape altogether. "Throwing them away just instills panic. I'm addicted but I'm not weak," she explained. "I was literally staring at my vape today that normally i'd hit a thousand times a day and hit it two times instead. I'ma try to go cold turkey for now but hopefully my brain doesn't need it at all by then."
When making her Met Gala debut on Monday night, Doja literally turned into a cat in honor of Karl Lagerfeld's beloved pet Choupette. Her hooded silver sequined Oscar de la Renta gown featured a cat-ear silhouette and feathered train that was punctuated by cat eye, mouth and nose makeup.
You can share this post!
Source: Read Full Article