Need any more proof Demi Lovato is a fighter?
Just look in her trainer's hand: there, you'll see a tooth that used to be in his mouth… until the 26-year-old songstress knocked the F**K out with her fists of fury!
Demi-son took to Instagram on Tuesday to share a video showing her coach, Jay Glazer, proudly showing off his toothless smile after the intense training session. She wrote in the caption:
"Holy sh*t I literally knocked @jayglazer's tooth out during training this morning – while he was wearing a mouth piece!!!! Hahahahaha sorry (not sorry) Jay!!! ???? So coach, when's my first fight?!"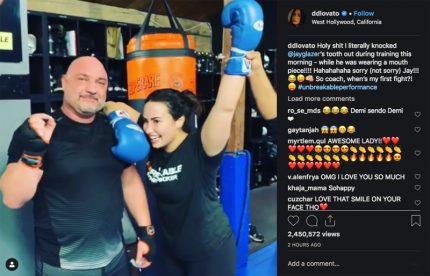 Dayum!! Forget music, someone get this girl in the UFC octagon!
It's great to see Demi is happy, healthy, and intimidating AF in the months since she completed rehab. Just last week, it was reported that she checked back into a rehab facility — but clearly, she's still kicking ass and punching teeth.
Keep at it, gurl! Watch her video (below). 
View this post on Instagram
Holy shit I literally knocked @jayglazer's tooth out during training this morning – while he was wearing a mouth piece!!!! Hahahahaha sorry (not sorry) Jay!!! ???? So coach, when's my first fight?! ? #unbreakableperformance
A post shared by Demi Lovato (@ddlovato) on
Source: Read Full Article