After 14 hours of staying in the hospital, the former finalist of 'The Bachelor' reveals that her little son Dutton Walker Lane has undergone 'a full work up' and 'spinal tap' since the doctors 'worry about meningitis.'
AceShowbiz –Chris Lane's wife Lauren Bushnell has spoken out about her newborn baby Dutton Walker Lane's hospitalization. A few hours after her husband shared the concerning news, the former finalist of "The Bachelor" tearfully detailed why her little son was rushed to the emergency room.
On Monday evening, July 5, the 31-year-old new mom took to her Instagram Story to explain about the hospital visit. In the video, the former flight attendant said in tears, "We had a rough evening." She wrote in the caption, "Went to ER at 9pm thinking Dutton had an ear infection. 14 hours later we are home and resting but basically he has a common virus (basically a cold) and ear infection but with babies so small and under 28 days old they worry about meningitis and do a full work up/spinal tap."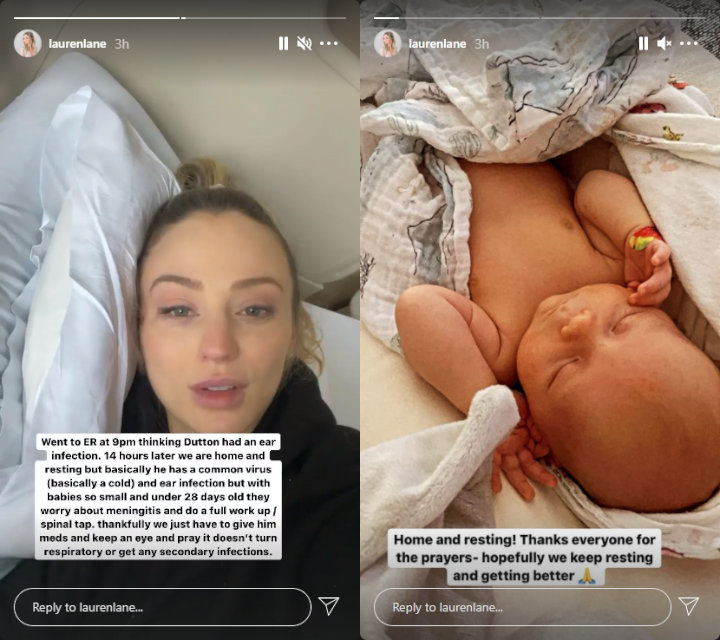 Lauren Bushnell tearfully detailed about her newborn son's hospitalization.
"Thankfully we just have to give him meds and keep an eye and pray it doesn't turn respiratory or get any secondary infections," Lauren concluded her snap. In a different Story, she posted a picture of baby Dutton back at home. Over the photo, she captioned, "Home and resting!" She then began to thank people for their prayers, "Thanks everyone for the prayers- hopefully we keep resting and getting better."
Earlier in the day, Chris shared that his little son had spent the night in the hospital. In a clip he shared on his Instagram Story, the "I Don't Know About You" crooner pointed the camera to Lauren and the newborn baby and said, "They spent a night in the hospital. Poor guy." The 36-year-old musician captioned the Story, "Spent the night in the hospital. If you pray, Dutty Buddy needs some prayers!" adding a praying hands emoji.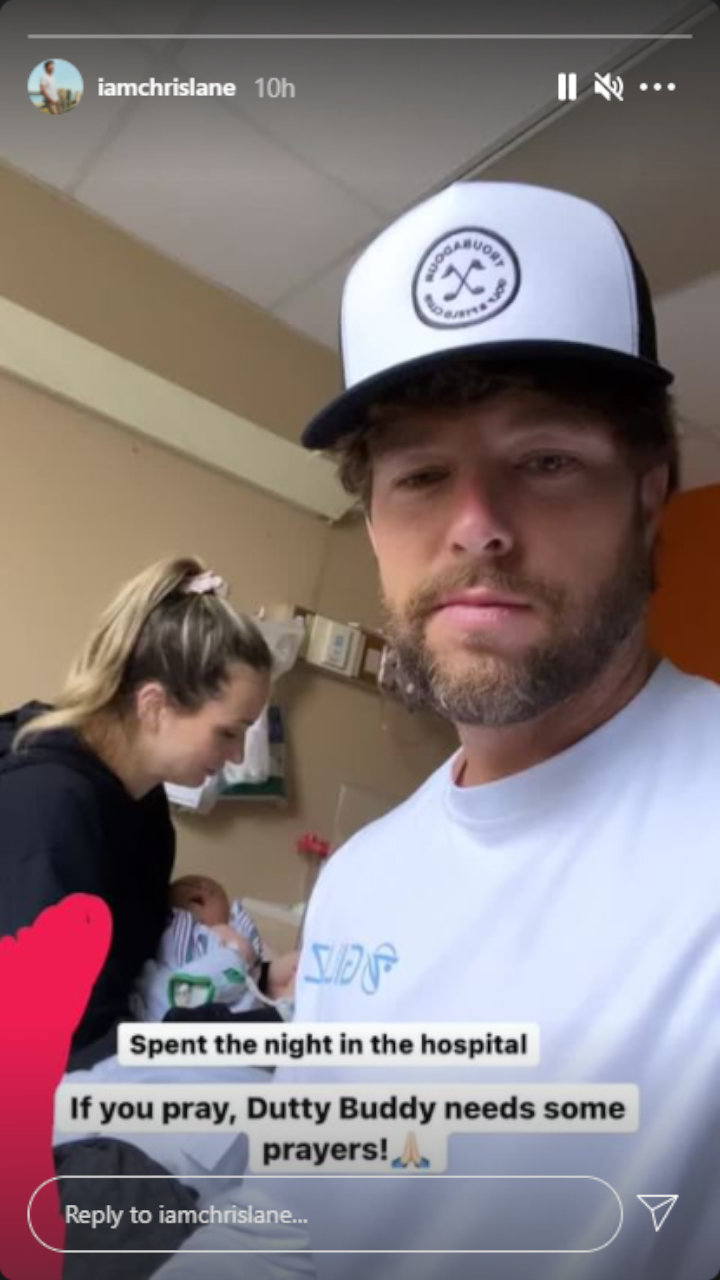 Chris Lane asked for prayers for his son.
The couple, who tied the knot in October 2019, announced the arrival of their son in early June along with the first photos of their bundle of joy. "Dutton Walker Lane born June 8th, 2021," Lauren wrote on Instagram at the time. "Your dad and I can't get enough of all 9 pounds of you. Now back to baby cuddles and praising Jesus over and over again for this little miracle!!"
"Watching Lauren go through the birthing process – from the beginning to the moment she delivered – was the most incredible thing I've ever witnessed," Chris told PEOPLE after welcoming his first child. The "Big, Big Plans" singer then confessed, "I experienced an emotion I've never felt before." Lauren added, "I've never felt an immediate unconditional love like I now have for Dutton. And going through this experience with Chris has made me love and appreciate him even more… I didn't think that was possible!"
Source: Read Full Article