A woman claims she was hit with the 'WAP' hitmaker's microphone during the Bronx femcee's angry fit when another concertgoer allegedly threw drink at her onstage.
AceShowbiz –Cardi B's mic-throwing victim has claimed that the raptress mistook her for another person. A woman, who was allegedly hit with the "Bodak Yellow" hitmaker's microphone during her angry fit, said that the hip-hop star mistook her as the person who threw drink at the femcee.
The woman, who goes by paxybabyy on TikTok, took to the video-sharing platform to share footage from the incident. In the clip, she was seemingly holding the camera while someone in front of her holding her drink in the air before tossing it at Cardi's direction.
After Cardi reacted by throwing her mic at the audience, the woman was visibly shaken judging from her camera's angle. She captioned the footage, "When you're the one gets smoked by Cardi B microphone but didn't throw the drink."
The woman posted another video of the incident on her Instagram Story, this time capturing the moment from a bit further back. The clip shows that a woman, possibly paxybabyy, was standing right behind the woman who was holding a drink in the air.
When Cardi threw her mic, the second woman seemingly swiftly moved away to avoid the mic, which appeared to have landed on the woman holding the camera. Someone else was seen quickly pointing at the right culprit though, before security guards escorted her out.
The incident took place when the Grammy Award-winning artist was performing in Las Vegas on Saturday, July 29. She took the stage at Drai's nightclub when she got upset by the person who hurled liquid from a cup at her mid-performance.
Looking startled, the mother of two spontaneously launched the microphone at the woman. Security then intervened while the rap star yelled from the stage. After getting her microphone back, she told the audience, "I said splash my p***y not my face b***h."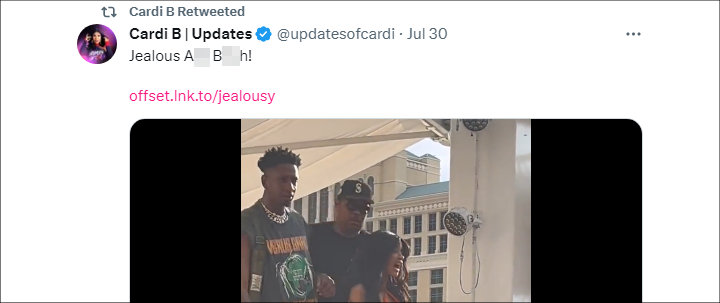 Cardi B reacted to her mic-throwing incident.
Cardi has also responded to the incident on Twitter. She retweeted a post by a user who shared footage of the incident with a caption that read, "Jealous A** B***h!" The caption was seeming taken from lyrics of Cardi's new collaboration with her husband Offset titled "Jealousy".
You can share this post!
Source: Read Full Article