The 'Toxic' hitmaker felt 'gaslit and bullied' after some concerned fans asked law enforcement officials to check up on her following her break from Instagram.
AceShowbiz –Britney Spears has called out her fans after police were called to carry out a welfare check on her earlier this week. The "Gimme More" singer's concerned fans called cops after she deleted her Instagram account, days after declaring she was changing her name to River Red, and she's now warned they "went a little too far" and "invaded" her privacy by not leaving her in peace to lead her life out of the spotlight.
"As everyone knows, the police were called to my home based on some prank phone calls. I love and adore my fans but this time things went a little too far and my privacy was invaded. The police never entered my home and when they came to my fate they quickly realised there was no issue and left immediately," she said in a statement shared on Twitter.
"This felt like I was being gaslit and bullied once the incident made it to the news and being portrayed once again in a poor and unfair light by the media. During this time in my life, I truly hope the public and my fans who I care so much about can respect my privacy moving forward. All the love, B."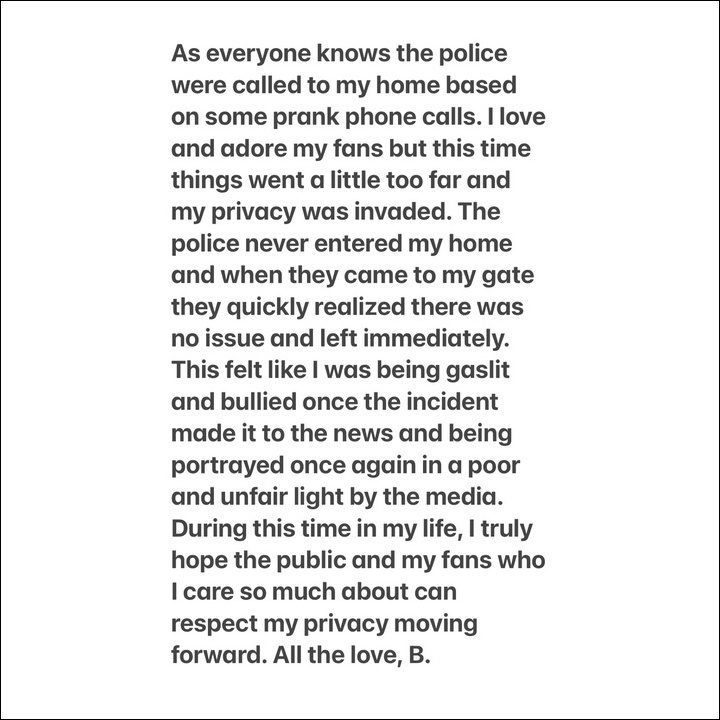 Britney Spears issues a statement after welfare check
Britney's statement comes just a month after her husband, Sam Asghari, made a similar plea following fan speculation the 41-year-old pop star – who regained control of her own affairs in November 2021 after 13 years under a conservatorship – didn't run her own social media accounts.
After Britney accidentally deleted her Instagram account, prompting the speculation, Sam wrote on his own Instagram Story, "Social media can be traumatizing. Sometimes it's good to take a break. She has her voice and is a free woman. I have respect for her privacy and I protect it at all times… Out of respect for her privacy, I don't post her 247. I ask for permission if I ever do (sic)."
You can share this post!
Source: Read Full Article