Whether or not you agree with her firing of Hannah Ferrier on "Below Deck Med" in 2020, you have to admit that Captain Sandy Yawn is one of the most badass women on Bravo these days. Being a female captain in yachting is not an easy feat, given that the industry is still male-dominated, by her own admission. But luckily, Sandy has a loving girlfriend, Leah Shafer, by her side to help her get through the day-to-day. And judging from their comments about each other, this relationship is built to last. 
In fact, Sandy has even gone so far as to introduce Leah to her "Below Deck Med" castmate Malia White during a trip to Colorado in May. In pictures on Instagram, everyone looks thrilled to finally have their worlds colliding. Malia commented on the post that it was "lovely" to finally meet Leah and the older women concurred. Sandy wrote in a comment on the pics, "It was so great to catch up and meet your friends! I had a lot of fun!" Leah also posted her own pics and wrote, "What a wonderful evening! Played [Topgolf] with my love @captainsandrayawn and Malia White and friends! So great to finally meet Malia in person, what an amazing soul!"
So who is Leah, and what does she do when Sandy's on charter?
Leah Shafer left her marriage to be true to herself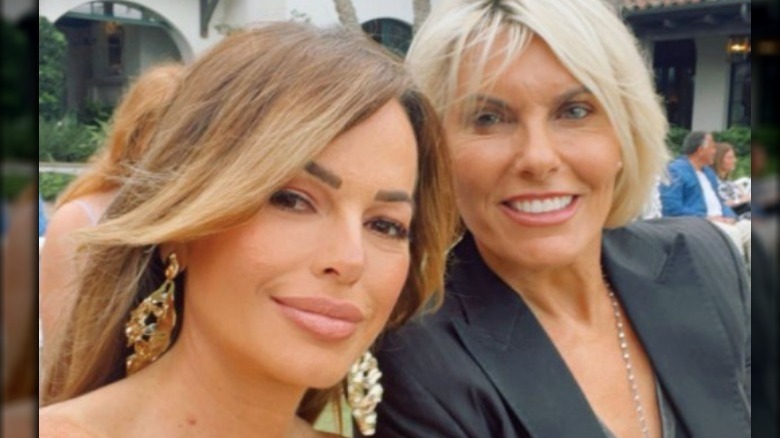 According to her Instagram bio, Leah Shafer is a professional singer and the owner of a skincare company called Hydralounge IV and Skin. She regularly displays her chic hydrafacial treatments on her page. She is also a mom and was once married to a man before she realized that that life just wasn't what she wanted to fulfill her. She told Cheatsheet, "So I sing, I socialized, I'm an entrepreneur, and I travel. I tried to stay home but for my personality, I couldn't. I needed to feel fulfilled. But I was bored staying home. I was bored cleaning and having luncheons. For me personally, it slowly made me sad not having something to count on daily."
Coming out and meeting Captain Sandy Yawn changed her life. She told the outlet in the same interview, "I left for me and it also wasn't fair that I couldn't love my ex in a way he deserved. And when I met Sandy she showed me a different kind of love. One love wasn't better than the other. Meeting Sandy is a love that connected to me in a way that was organic and a fit for where I was in my life currently."
In all, she and Sandy seem to make each other happy as they both follow their dreams! Now, Bravo fans just need her to show up on a charter to get to know her better. 
Source: Read Full Article