Bennifer are at it again with the coordinated street looks.
Jennifer Lopez and Ben Affleck walked hand-in-hand on the streets of Los Angeles on Wednesday wearing tan and baby-blue ensembles—Lopez in a light blue coat and pants paired with a matching blue bag and tan belt, and Affleck in a tan coat over a light blue dress shirt. Lopez styled her hair in a sleek high ponytail.
The two were headed to Affleck's interview taping for Jimmy Kimmel Live!, which aired yesterday.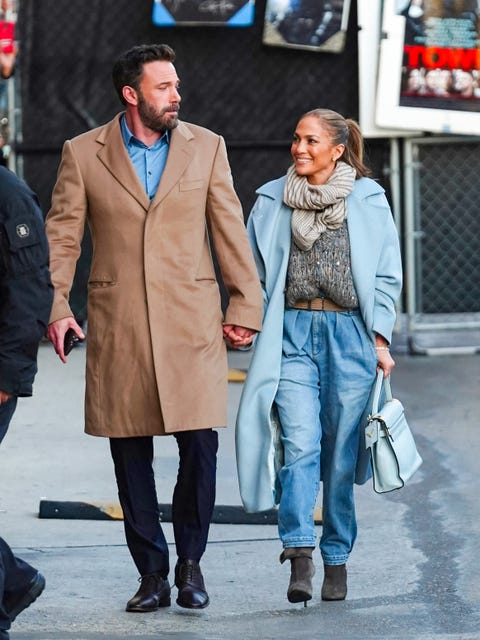 Light blue has been J. Lo's color of choice lately. For the red carpet premiere of Affleck's upcoming film, The Tender Bar, the singer had a baby blue moment in a flowing Cinderella-esque gown by Elie Saab from the designer's fall/winter 2021 couture collection. She matched the look with a blue velvet belt cinched at the waist, and wore minimal accessories, including drop earrings and a diamond bracelet. She also paired the look with a white Lily clutch by Tyler Ellis.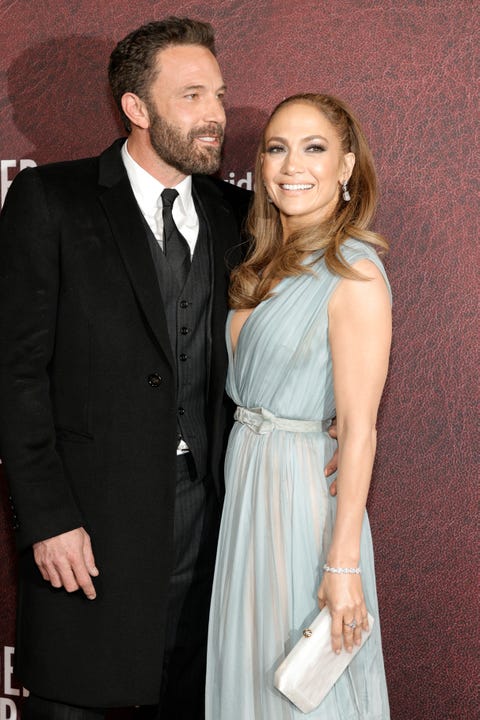 While it may have been a coincidence, the coordinated outfits did make the pair look especially united during what has been a rocky week for Affleck, who has faced criticism for comments about the end of his marriage to ex-wife Jennifer Garner, with whom he shares 3 kids. On the Howard Stern Show on Monday, Affleck had said that he would "probably still be drinking" if he were still married to Garner. "It's part of why I started drinking," he told Stern, "because I was trapped."
The actor clarified during yesterday's Jimmy Kimmel appearance. "They said I had blamed my ex-wife for my alcoholism and that I was 'trapped' in this marriage, just made me out to be the worst, most insensitive, stupid awful guy," Affleck began. "And I—look, I know people do this. I get it, me, I'm happy to be sad Batman, I'm happy to be Dunkin' Donuts and the memes… Really, like, if it's about my kids, I gotta just draw a line. I want to be clear: That's not true. I don't believe that, it's the exact opposite of who I am, what I believe, and I would never want my kids to think that I would ever say a bad word about their mom. It hurts my feelings, man."
Source: Read Full Article