Adele is truly a beast on the mic, y'all!
On Tuesday night, the 31-year-old artist reminded us all that she's capable of more than just emotional and heartfelt ballads; she's got some pretty amazing rapping skills, too.
The Hello songstress stepped out for some fun in Los Angeles this week, making an appearance at the #NoMoreWackParties event on June 4.
The singer-songwriter, and not-so-secret rap fan, instantly became the life of the party when she hopped on stage and started rapping Nicki Minaj's verse on Kanye West's 2010 track, Monster.
WATCH the Grammy winner tear it up on the mic (below):
https://www.instagram.com/p/ByUs9OyjpfD/
Not only does she have the pipes, but she's got the moves too. Swipe right to the next video (above), and see the woman break it down on the dance floor with other partygoers to Beyoncé's hit, Formation.
Nice!
Adele rarely steps out for public events, so we're super happy to see her having a good night out on the town, especially in the wake of her split from estranged husband Simon Konecki.
And we're especially grateful to Instagram user Patrick Buchanan for capturing it on video for us all!
Our readers know this isn't the first time Adele has spit those iconic lyrics. She previously showed off the skill on The Late Late Show With James Corden's Carpool Karaoke segment two years ago, back in 2016.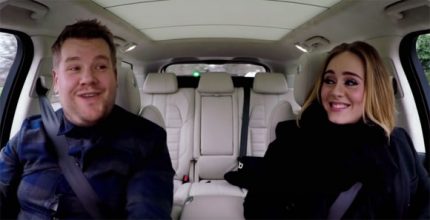 With teased news of a new album in the works, and this clear display of ability to spit bars, we can't help but wonder if Adele's latest will include a bit of hip-hop flare?
Just a few weeks prior, on her 31st birthday, the mother-of-one shared a very personal IG post revealing how difficult a toll the past year has taken on her emotions — and ended with a little hint about the possible, upcoming project.
Her post read:
"This is 31… thank f*cking god. 30 tried me so hard but I'm owning it and trying my hardest to lean in to it all. No matter how long we're here for life is constant and complicated at times. I've changed drastically in the last couple years and I'm still changing and that's okay. 31 is going to be a big ol' year and I'm going to spend it all on myself. For the first time in a decade I'm ready to feel the world around me and look up for once. Be kind to yourself people we're only human, go slow, put your phone down and laugh out loud at every opportunity. Learning to REALLY truly love yourself is it, and I've only just realized that that is more than enough. I'll learn to love you lot eventually. Bunch of f*cking savages, 30 will be a drum n bass record to spite you. Chin up eh"
There's quite a bit of "drum n bass" on her beloved Nicki track, too. So in the words of Minaj…
Adele, what's good?! LOLz…
What do YOU guys think, Perezcious readers? Impressed by Adele's impromptu set? Do you think her next LP should switch it up with some rap features?
We'd love to hear your thoughts! Share them in the comments down (below)!
Source: Read Full Article