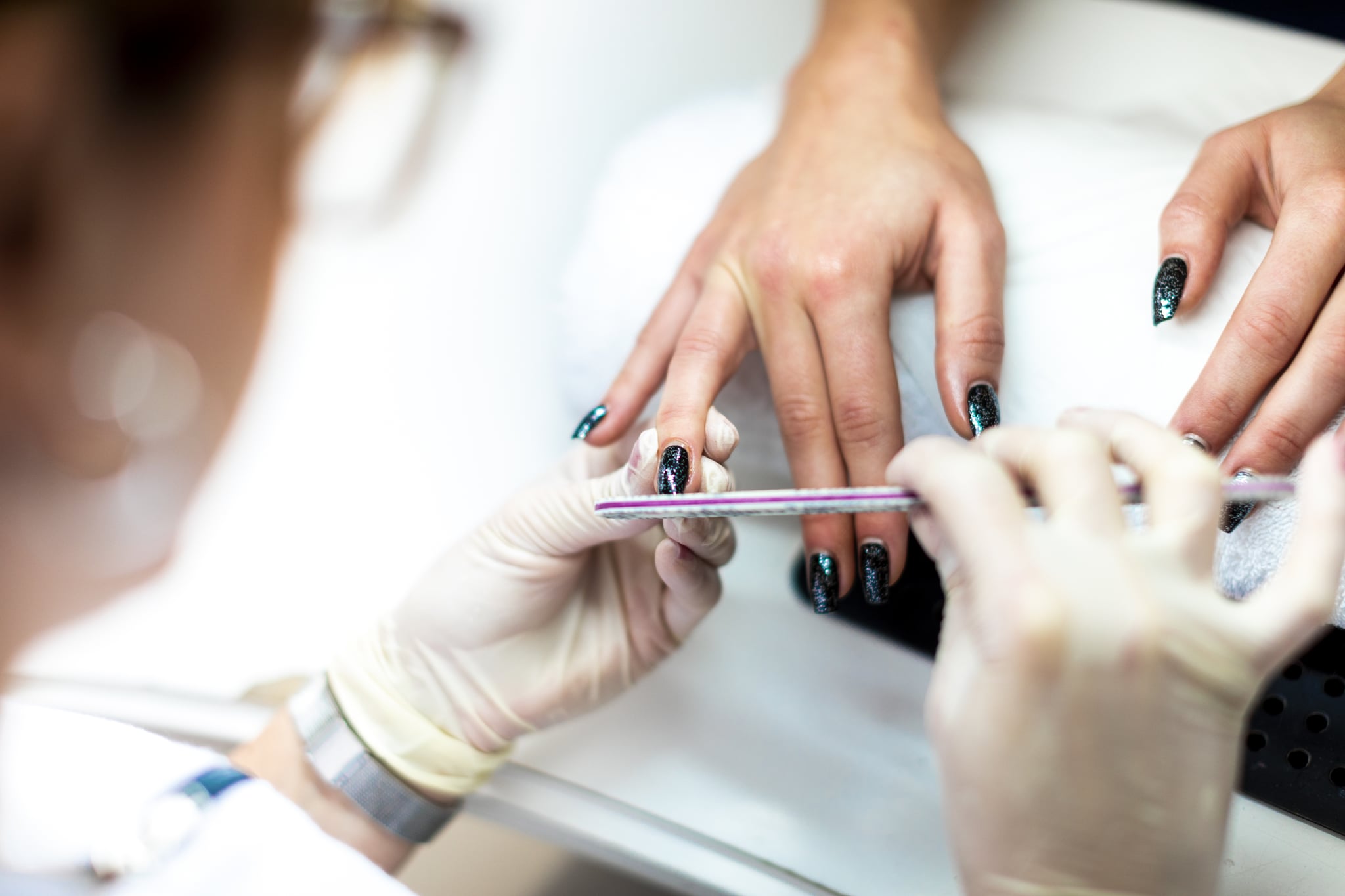 While heading back to the nail salon isn't of utmost importance right now (the main priority remains to be the continued safety for the public by staying home), planning and road-mapping how salons will operate post-lockdown is crucial to the beauty industry moving forward and succeeding in the future.
What that looks like is dependent on state regulations and safety mandates, as some salons might require facial mask coverings or plastic guards between the customer and technician.
Many beauty services are close-contact businesses and fall under the "high-risk" category for COVID-19, meaning that in many state's reopening plans, they are set to reopen later, after it's deemed safe to do so. In states like Georgia, Arizona, and Arkansas, nail salons have been allowed to reopen as long as the salon staff and customers follow a strict safety protocol, but in states with a higher number of coronavirus cases, like New York, New Jersey, and Illinois, nail salons have been projected to reopen at a later date.
Although this is an ever-changing situation, renowned nail expert Marian Newman and scientist, author, and educator Doug Schoon shared what you can likely expect when salons do reopen across the country.
There Will Be Increased Hygiene Measures in Place
Hygiene has always been top priority in nail salons, but now increased measures will be taken to ensure the safety of both employees and customers.
So far, the extra hygiene steps for nail salons include: increased hand washing for clients and technicians using disposable paper towels, technicians are to wear masks at all times, and technicians are not to touch any of the customer's personal belongings during appointments. Tools will be handled with stricter disinfection instructions, in addition to all nail polish brushes being cleaned between clients. Magazines or refreshments such as tea and coffee should no longer be offered to clients (single-use cups and water dispensers only), and a buffer time of about 15 minutes is recommended in between each client to allow for adequate cleaning and disinfecting.
Yes, You'll Have to Wear a Mask During Your Nail Appointment
Although masks in nail salons aren't rare, extra attention will be given to personal protective equipment (PPE) as well as clothing. Technicians are recommended to wear a fresh uniform daily, washed at 60 degrees after each use, which should not be worn at home or on their commute to and from work.
Masks should be a requirement for all staff — like N95 or FFP2 masks. However, in light of current shortages and recommendations from the government to only use nonmedical masks, technicians should check guidelines nearer the time of reopening. Clients should also wear a mask during their treatment, which should be disposed of or washed immediately afterwards.
As mentioned, gloves should be worn at all times. To eliminate risk of latex sensitivity, they should be powder-free nitrile gloves. While salon safety is incredibly important and proper PPE should be worn, it's important to make sure that frontline workers take priority for PPE access — this should be taken into consideration before opening to ensure adequate protection for an extended period of time.
There Will Be Fewer Customers in the Salon at One Time
Social distancing will still apply to in-salon nail appointments. Salons with more than one desk should be spaced six feet apart, and clients are advised to move around the premises as little as possible.
Walk-In Appointments Will No Longer Be Permitted
The general etiquette and way appointments are made is likely to change when the stay-at-home orders lifts. Salons are advised not to accept walk-in clients and only operate on an appointment basis. Each client should be asked about any COVID-19-related symptoms before proceeding with the appointment — likely via email or phone with agreed acknowledgement from clients of new policies in place. Technicians should only treat one client at a time to avoid any virus transferal.
Salons should also operate on a no-cash basis, instead taking card payments on a system that can be easily cleaned when touched. Arrive to the appointment on time and alone (without children) and only enter the premises when the previous client has left. In addition to this, cancellation policies may be reconsidered for those sick or unable to attend last minute.
We May Have to Wait Longer For Mobile and Home Salon Appointments
Technicians working in-house should not commence working until all restrictions on visitors in the home have been fully lifted. Once these stay-at-home orders have been lifted, the technician should avoid contact with other members in the home while carrying out the treatment. When entering the client's home, technicians should wear disposable foot coverings, gloves, a mask, and protective clothing, to be changed before entering a new client's home.
When visiting a nail salon or having a technician perform a treatment at home, you must confirm with the salon that you've been symptom-free for seven days, and that those you live with have also been symptom-free. These guidelines will be put in place to ensure the safety of both staff and clients, and being mindful and respectful of the salon's individual policies makes sure the industry can return to its new normal as quickly as possible.
POPSUGAR aims to give you the most accurate and up-to-date information about the novel coronavirus, but details and recommendations about this pandemic may have changed since publication. For the latest information on COVID-19, please check out resources from the WHO, the CDC, and local public health departments.
Source: Read Full Article