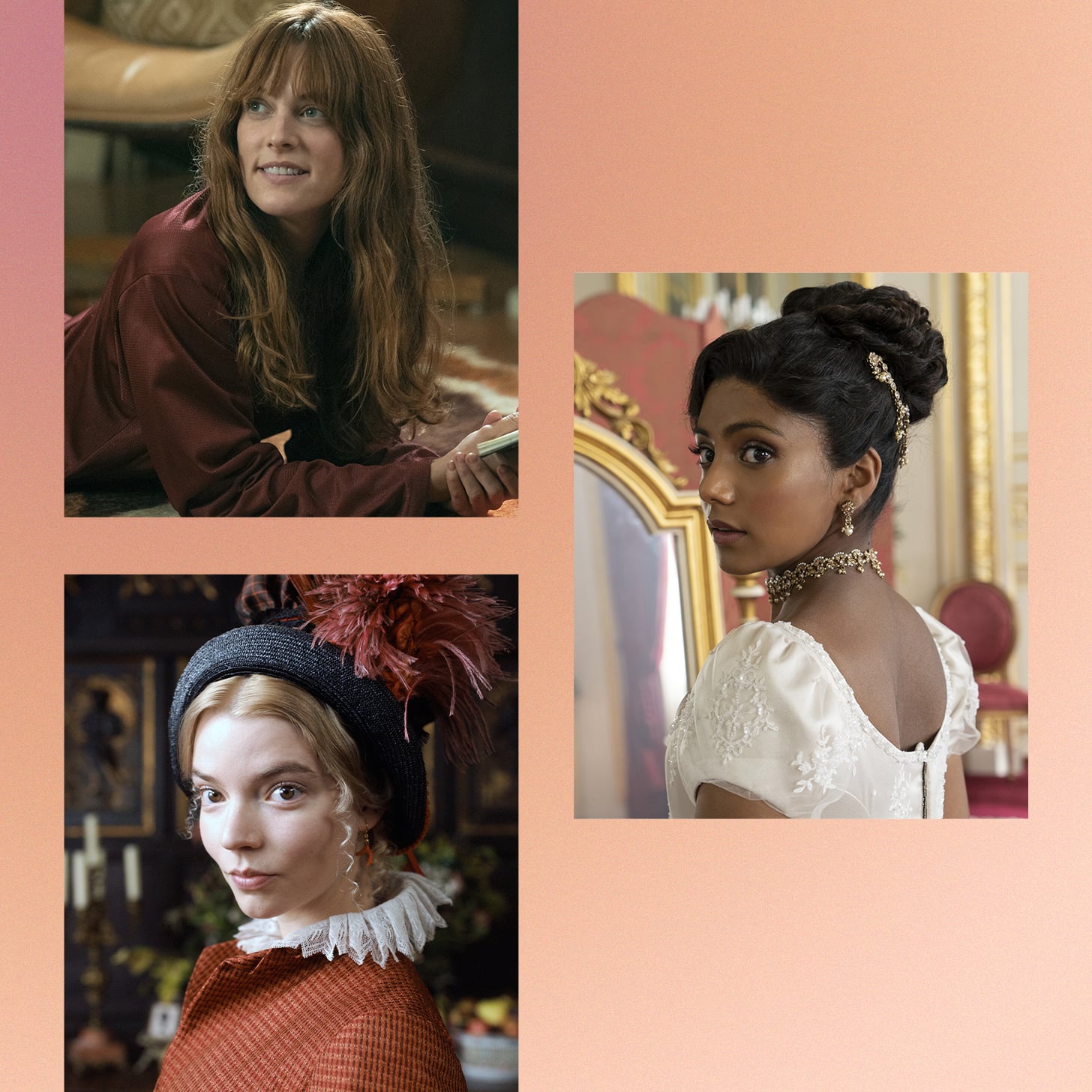 Image Source: Everett Collection and Photo Illustration: Aly Lim
You don't have to be an expert to point out some of the glaring hair and makeup inaccuracies in period films and TV shows. While plenty of historically correct period pieces exist, those with unrealistic beauty choices are hard to ignore. In fact, there seem to be a handful of inaccuracies that pop up again and again — namely, actors looking too polished and "pretty" in situations where it doesn't make sense.
As this recent Twitter thread points out, an actor's smile is usually the dead giveaway. "My personal theory for why it's impossible for hollywood to make a plausible period piece for TV/film in 2023 is cosmetic dentistry," user @MichelleCyca writes, along with a close-up shot of Riley Keough in Amazon Prime's new limited series "Daisy Jones & The Six." "These fake teeth simply did not exist in the 70s." (For what it's worth, cosmetic dentistry could mean anything from composite veneers to teeth whitening.)
"It was definitely something I noticed," health and beauty historian Lucy Santos tells POPSUGAR about "Daisy Jones." "The too-straight and too-white teeth, the perfect skin — even after the character has been portrayed as being in the middle of a serious drug binge — is as jarring as the (usually female) character in a zombie movie who still has perfectly shaven legs three weeks into the apocalypse."
With the sizable budgets and vast resources typically available to major film studios and television networks, these seemingly blatant inaccuracies are puzzling. What's preventing these productions from sticking to the historical period? As it turns out, there are a number of factors at play.
In one way or another, period pieces inevitably reflect the beauty standards of the time period they're made in, rather than the one they're meant to be taking place in. Case in point: the "too-perfect" teeth in "Daisy Jones & The Six," not to mention other historical pieces set in certain eras, like "Bridgerton" or "Emma."
Due to advancements in dental care, straight, white teeth have become much more commonplace in the United States. Plus, the current plastic-surgery boom has sparked a veneers trend among celebrities.
Though it can be time-consuming and costly to alter an actor's teeth, some productions have made the commitment. Heba Thorisdottir, makeup-department head for 2022's "Babylon," says director Damien Chazelle requested that the entire cast — yes, even Margot Robbie — have their teeth color darkened. "We used alcohol-based paint to knock the color down and mixed 'rotten teeth' mix for other background actors," she tells POPSUGAR.
Still, beauty standards have been weaseling their way into films for decades. "It is so interesting as a historian to look back on older programs and see how beauty standards of other periods were applied to those shows," Santos says. "I am a huge fan of '70s films [that take place in the] '20s and '30s, like 'The Sting' or even earlier, 'Some Like It Hot,' which does a terrible example of portraying hair and makeup in the '20s but [is] a wonderful example of what it meant to look back to that period in the '50s."
Getting on set poses its own slew of challenges for hair and makeup artists. Despite what they may be envisioning, an actor may have different ideas. Daniel Parker, the Academy Award-nominated makeup artist behind "The Queen's Gambit" and "Chernobyl," says he's had to compromise with performers in the past.
While working on the 1988 war drama "A Time of Destiny," Parker says, actress Stockard Channing wanted her lips painted in a way that went against the historical period. "I said, 'Look, bear with me. Let me do it the way it was meant to be done,'" the artist recalls. "And I did, and she looked amazing. And she thought so, too. You have to find a way that they will accept it. Sometimes, it means speaking to the producers or the directors if one feels strongly enough about it."
Another issue Parker has run into on set is mascara — or lack thereof. "I did a war film called 'In Love and War,' and there are all these nurses in the First World War," he says. "I said, 'Sorry, no mascara. You're not allowed.' And these actresses would disappear behind the building, put their mascara on, and come back to set, and I'd have to get one of the assistants to remove it."
Despite their best efforts, hair and makeup artists are sometimes forced to go against historical accuracy for the sake of practicality. Parker points to the 1962 film "Lawrence of Arabia" (for which his father, credited as Charles E. Parker, served as the head makeup artist). The playwright Noël Coward famously criticized the movie's star Peter O'Toole for the amount of eye makeup he wore, but Parker says it was intentional. "The blue eyeshadow was there for a reason. It was to enhance his eyes and make them look bluer," he says. "That was something that was completely wrong [historically], but it worked."
It's also worth noting that sometimes, "incorrect" period hair and makeup are done purposefully. Netflix's hit series "Bridgerton," for example, has been criticized for its historical inaccuracies, but the show presents a fictionalized version of the Regency era. "The hair work is amazing," Parker says. "Some of it is completely period incorrect, but it's a fantasy piece."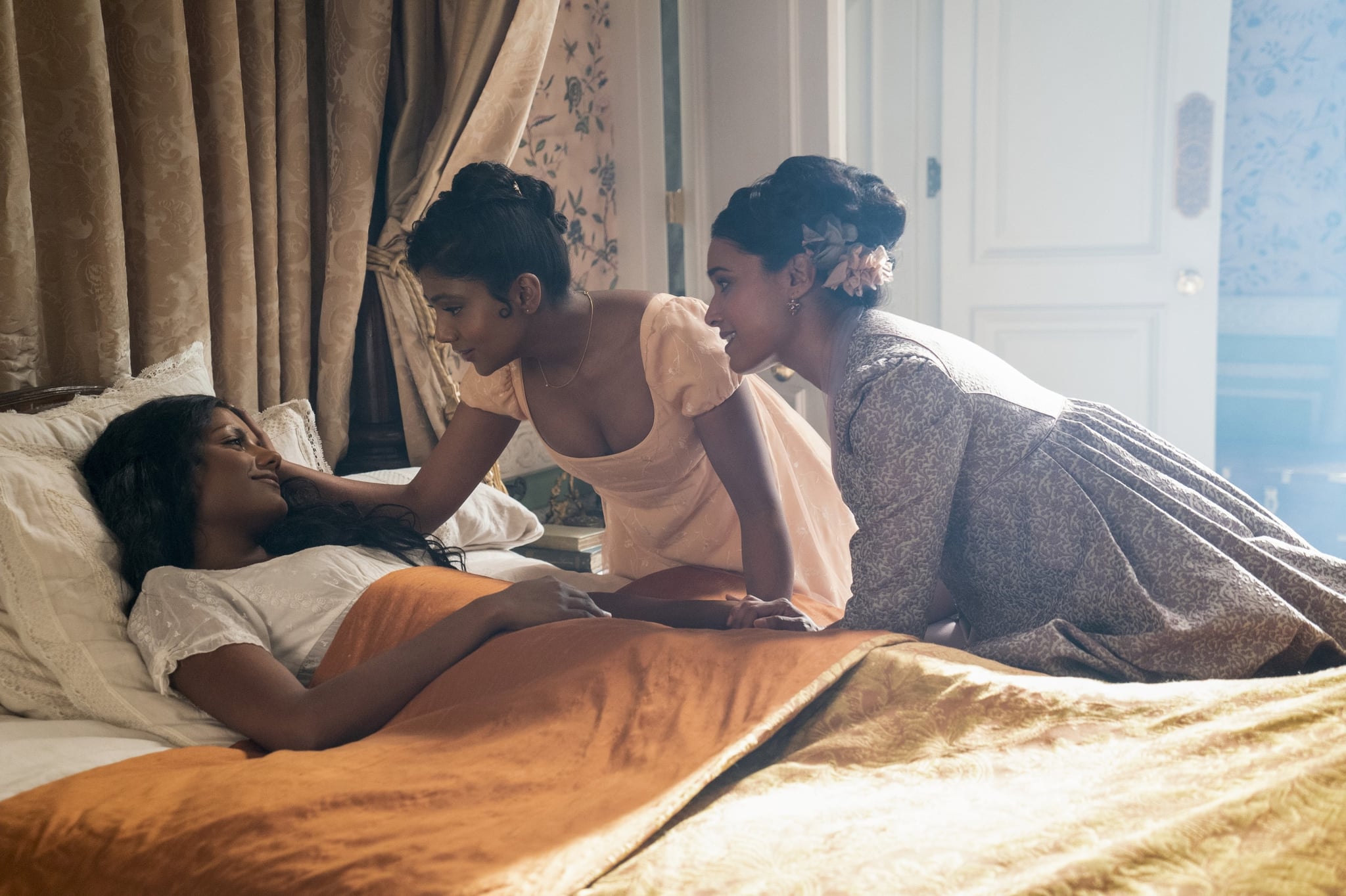 Image Source: Everett Collection
The beauty choices in a film or TV show may seem trivial, but they can have consequences. At best, they detract from the viewing experience. "If it looks like makeup or if it's wrong as a period, then it's distracting," Parker says. "People will be looking at that as opposed to looking at the performance or the story. And to me, the story is the most important thing."
But at worst, Santos says, they can contribute to the toxic beauty standards that have been suffocating women — and men and nonbinary folk — for generations. "There is a danger that by portraying everyone in the past as having perfectly bouncy hair and white teeth, we are doing ourselves a disservice," she says. "Not only do we begin to compare ourselves unfavorably to the stars and influencers of today, but we may also subconsciously extend that back into the way people looked in the past."
Source: Read Full Article