Yasir Salem is a marketing director for Men's Health and the Hearst Men's Group. He's also an accomplished competitive eater—he participated in the Nathan's Famous Fourth of July hot dog eating contest six times before retiring in 2018.
Salem is a speed-eating ultra-athlete as well, having won the Tour de Donut bicycle race several years in a row. (That's a 36-mile road race with a doughnut-eating contest throughout)—and he took on a self-imposed 12-marathon, 12-month challenge in 2017. The man is ambitious.
There to support him through his zaniest competitions was his wife, Gweneviere Mann. This past summer, Gweneviere was diagnosed with a rare form of lung cancer and passed away. The couple had run their first marathon together, New York's, in 2010, a year after Gweneviere recovered from surgery to remove a meningioma tumor in her brain. In the eight years after that, Yasir and Gwen ran eight marathons together.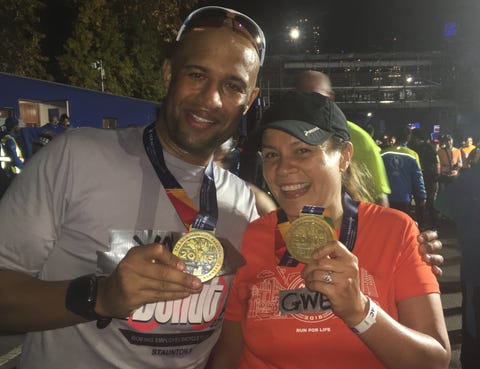 Yasir Salem and Gweneviere Mann after the 2015 New York City Marathon.

Yasir Salem
After Gwen passed away, the 41-year-old Salem took on a new mission: Run a marathon in all 50 states within a 50-week time frame.
"I lost my wife to lung cancer three months ago," Salem told Runner's World before the Philadelphia Marathon last November. "She survived a brain tumor 10 years ago, and she became a marathon runner. We ran New York City Marathon every year since 2010. I want to honor her memory in this way."
Gwen's Story
Mann had a brain tumor removed in 2008. Though the procedure left her with short-term memory loss, she went on to graduate from NYU, attended Julliard, and was accepted into Columbia University. A musician and writer, Mann also took up running, participating in numerous events with Salem in the New York City area.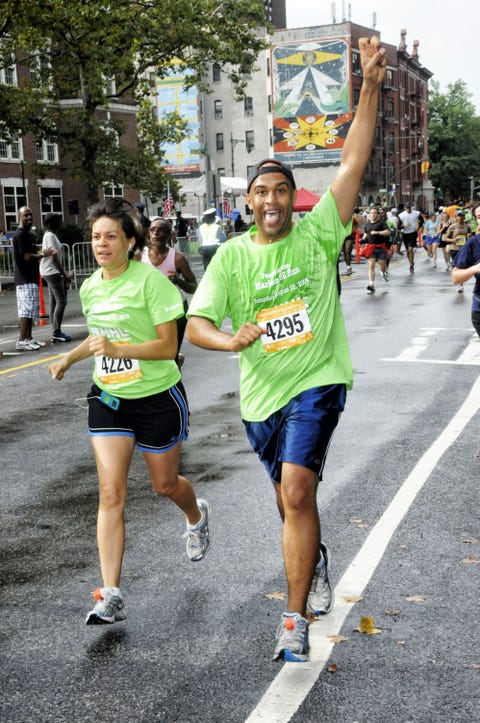 Gwen and Yasir at a 5K event in 2009.

NYRR
Then, in the spring of 2018, Mann was diagnosed with a rare form of lung cancer due to the exon 20 gene mutation. She was among the roughly three-quarters of patients who are develop this form of lung cancer as nonsmokers.
With his wife's blessing, Salem started the Gweneviere Mann Foundation.
"Through the foundation, I want to help people continue to thrive and live a fulfilling life like she did after she was diagnosed with brain tumor," Salem said. "She did not fit the profile of a lung cancer patient, and she got lung cancer."
The survival rate of lung cancer, especially in its late stages, remains low: Only 5 percent of people with lung cancer that has spread to other organs survive for five years or more, according to the National Cancer Institute's Surveillance, Epidemiology, and End Results Program (SEER). That's why one of the goals of the Gweneviere Mann Foundation is to raise awareness—and funds—for early detection programs, with the hopes that other cases of lung and brain cancer can be caught when they are at more treatable stages.
Taking On the 50-in-50 Goal
While his 50-marathon goal seems daunting, Salem is hoping it can help raise awareness to change those stats. Along the way, the foundation will eventually set up mobile radiology screenings at each marathon site.
Even just coming up with the schedule wasn't exactly easy: It took him about two weeks to put together his ambitious race schedule in a "logical" way. His race calendar will take 50 consecutive weeks, though some weekends he couldn't find any marathons.
"There are weekends where I'm running two, a Saturday and a Sunday, and I like that, especially if they are two states that are right next to each other," Salem said. "The only way to look at them is as my long runs, and areas where it's just intense recovery." He does not have specific time goals for each race, he just wants to finish the project uninjured.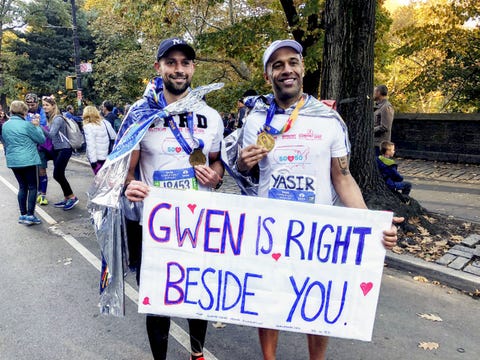 Yasir Salem
The "50-in-50" effort started at the 2018 New York City Marathon and will end at the 2019 race. As he continues on to races in Seattle, Memphis, and Huntsville, Alabama, Salem says he has seen increased interest from individuals asking how they can support.
"People are starting to raise their hand. They want to run with us, they want to donate," he said. "Cancer affects a lot of people and I didn't know how strong that community was until I was part of it."
The whole project has made catching up on Mondays a little more interesting at Men's Health HQ, hearing how our marketing guy did in his recent race in Vegas or Philly or how he's raised $40,000 for the foundation already. We couldn't be more proud.
How You Can Help
Donate to the Gweneviere Mann Foundation by visiting its website. There you can donate directly or sign up to join a marathon with Yasir as part of the "50-in-50" team. And follow Yasir on Instagram at @gwenfoundation; #50in50.
From: Runner's World US
Source: Read Full Article