For months now, I've been lusting over a single hair clip that has been making its rounds all over Instagram. It's a single black barrette with the word "Gucci" spelled across the top in crystals. It's pretty, all the bloggers are wearing it, and I haven't wanted a hair accessory so badly since I was in middle school. But here's the kicker: It costs a cool $400. With that, I gave up hope of rocking the crystal hair clip of my dreams anytime soon. But then, I heard about how the Kitsch x Justine Marjan collection was packed with rhinestones, oversized script, and shiny details, all at a price that won't make me dip into my savings account.
With that, I got celebrity hairstylist Justine Marjan on the phone and asked her for the deets on the collection, perfectly named "Too Glam To Give A Damn." No, I didn't make that up. Yes, it's genius.
"I love that fashion girls wear hair accessories now. I look to bloggers for inspiration and all these girls are wearing the crazy expensive Gucci hair clip that no one can afford," she tells me right off the batt. I know this clip very well. "These luxury brands were really what inspired me. I've even been seeing hair accessories return to the runway. I really wanted to give that luxury feel at an affordable price point."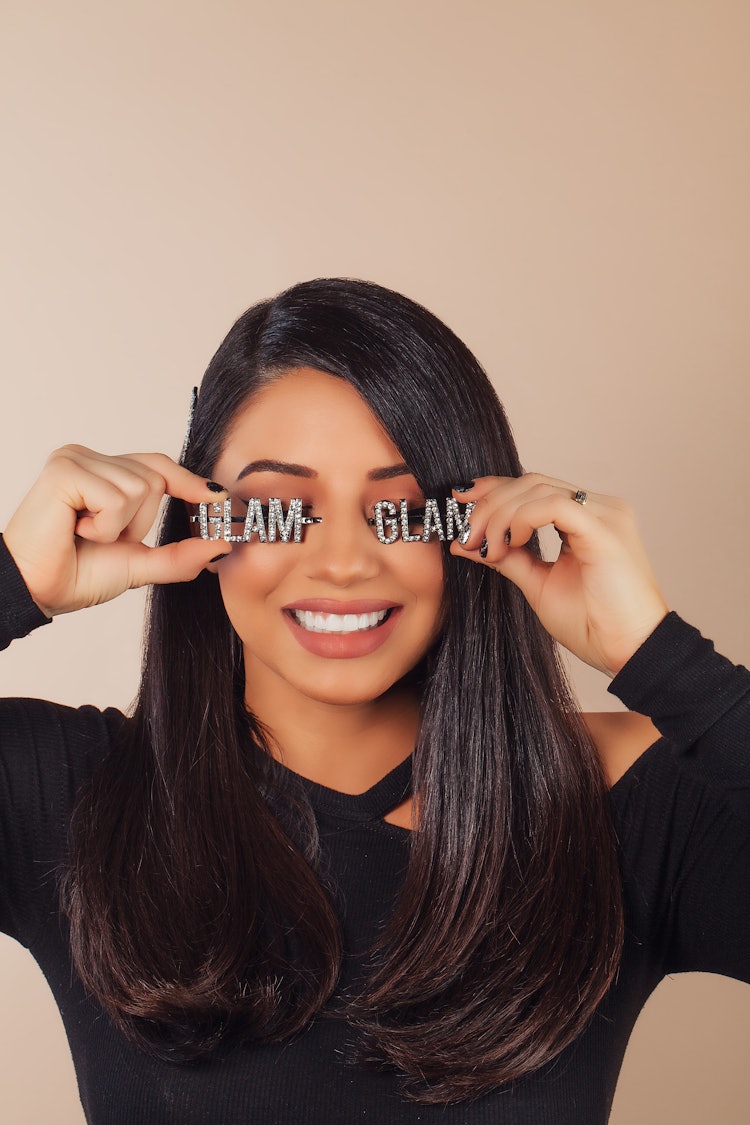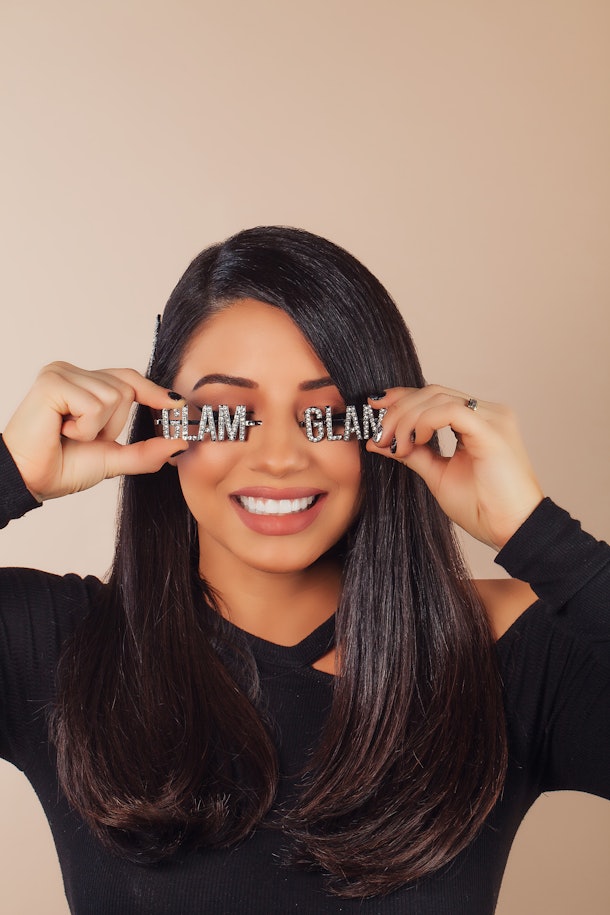 The collection is made up of six eye-catching pieces, from rhinestone bobby pins to oversized words like "Glam," "Drippin," and "Feelings" spelled across shiny barrettes. "I find it's the easiest way to make a statement — it's so quick," Marjan says of the collection. "You can look like you tried without spending a ton of time styling your hair. You can just pop in a cool bobby pin." This just speaks to me on so many levels.
Although she's a full-blown hair guru, Marjan and I have share mutual feelings of loathing for styling our own hair, but within seconds, she rattles off a handful of hairstyles using her new accessories that even got me in the mood to do my own hair. She tells me, I can do "a deep side part and put a pin on one side so it looks like [you have] a side bang. Or you can do a middle part and add two pins right at the edge of the eyebrow, so it's kind of that '90s Clueless-inspired look. Or you add some behind the ear and keep one side of your hair back. I love that they can be both functional and decorative."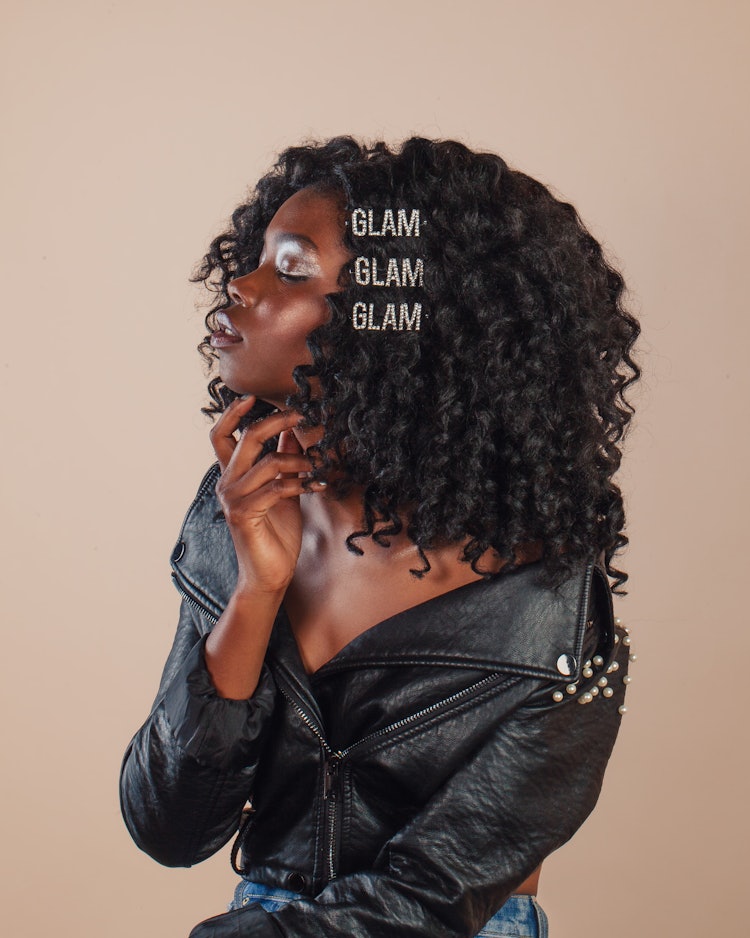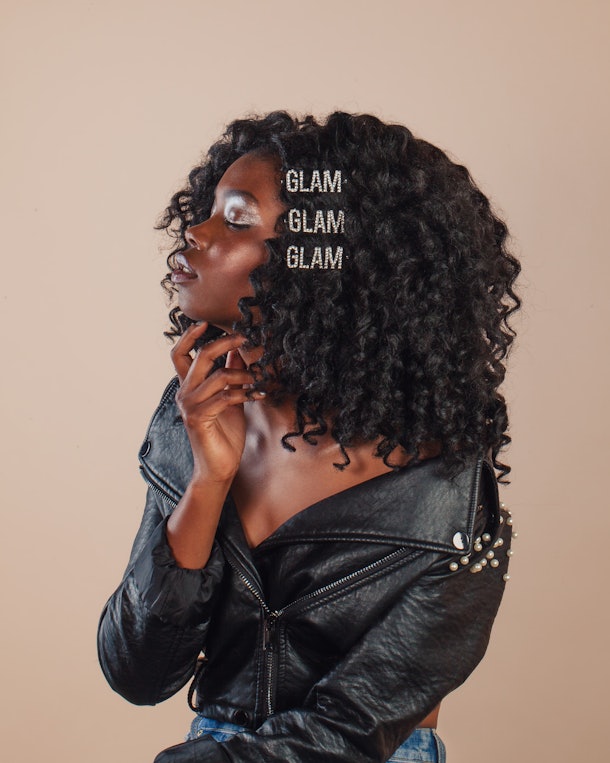 Glam Statement Rhinestone Bobby Pin ($29, Kitsch)
As I mentioned, the last time I was this excited about hair accessories, I was in middle school. Marjan and I talk about this. "Fashion is cyclical — everything that goes around comes around," she says. But the new iterations of hair jewelry have had some updates since our days on the playground. While hair accessories of the past were made of colorful plastic and other cheap materials, the "Too Glam To Give A Damn pieces" are "really durable, really good quality and they have good weight to them, so they really stay in the hair — you don't have to worry about them slipping out or falling apart."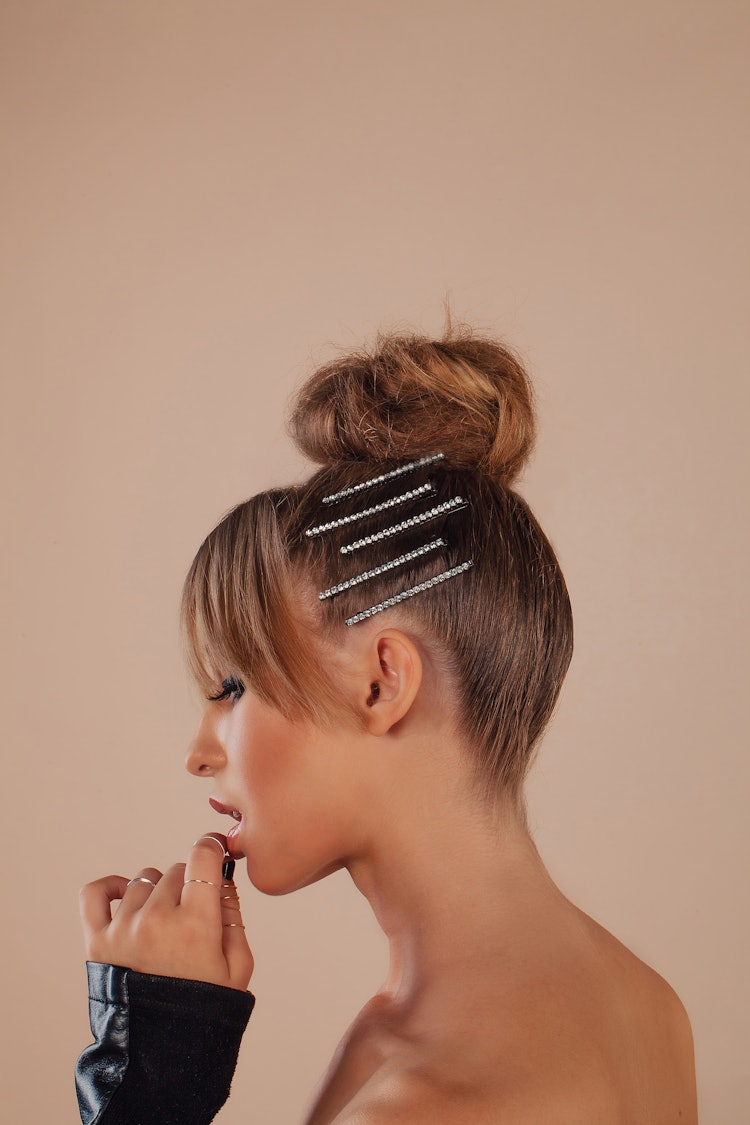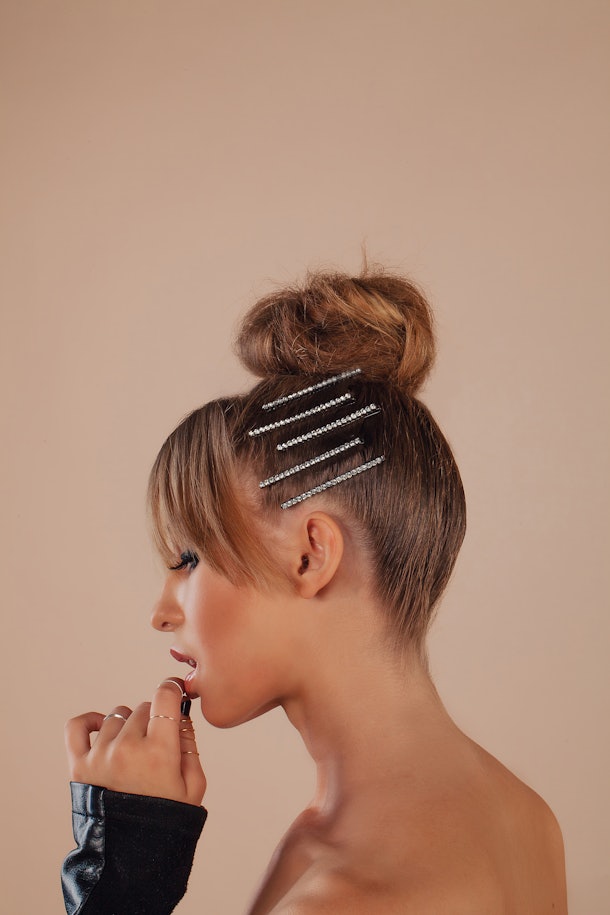 12 Pack Classic Statement Rhinestone Bobby Pins ($49, Kitsch)
Marjan also notes that this collection, obviously, is a majorly "elevated" alternative to the hair accessories we grew up with. "The rhinestones we're using are super reflective so they look super luxe and glossy," she says. "It's KiraKira in real life — you don't even need the app. It feels luxurious and it's very elevated."
Even more, she says there's no one way to style these pieces — essentially, anything goes. "The whole collection is meant to be mixed and matched for you to play with and be really creative," says Marjan. "They're also statement pieces so you can wear them on their own on easy hairstyles."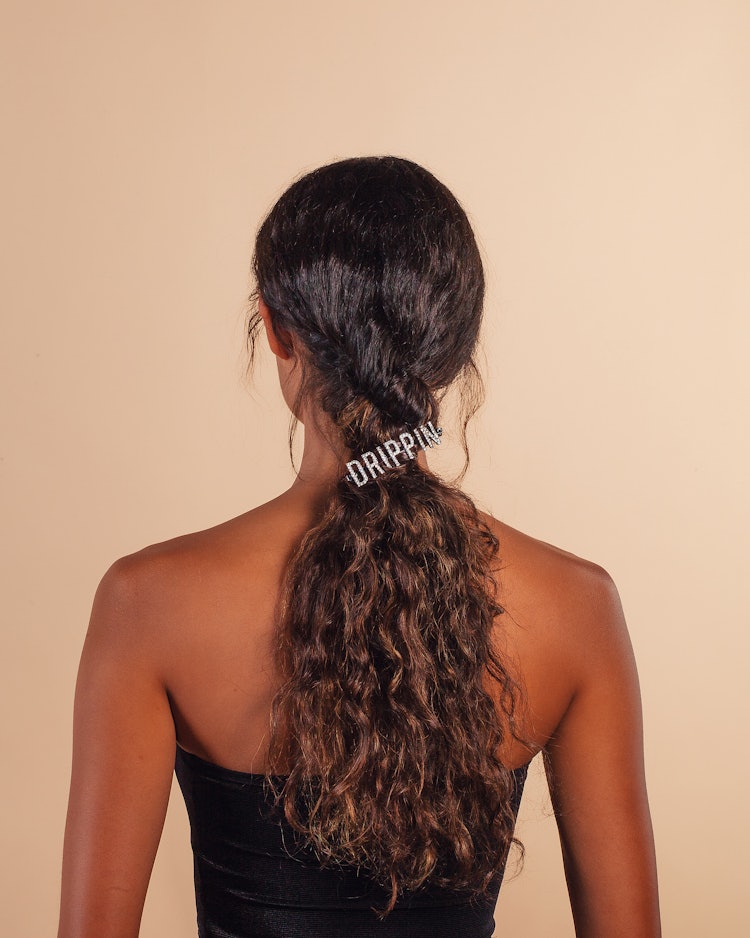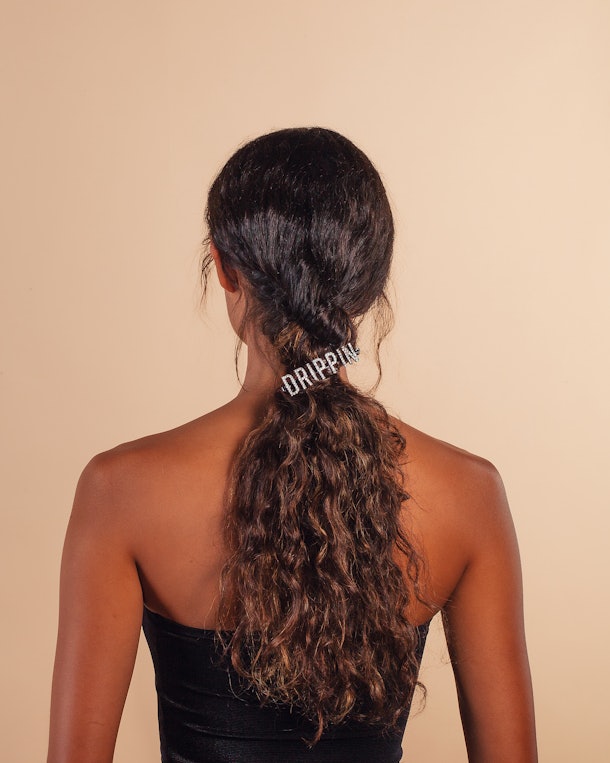 Drippin Statement Rhinestone Bobby Pin ($29, Kitsch)
For someone who follows Marjan's work as much as I do, you know this collection is a spot-on representation of her best celebrity looks in recent months. "I've really enjoyed playing with hair accessories over the last year," she says. "When I told people I was doing a hair accessory line, they were all like, 'Duh, it's about time' and 'If anyone can do one, it's you,' because I honestly do use them all the time on clients."
And the best part about that is Marjan's looks are so easy to recreate — all you need is the right accessories.
Not only does this this collection represent Marjan on a professional level, but she explains it's also a major milestone for her personally: "I'm so excited because this is the first thing I'm doing that has my name on it. This is a big moment for me and I honestly feel like I'm not just slapping my name on a product. I've been really involved and this collection is really what I wanted it to be."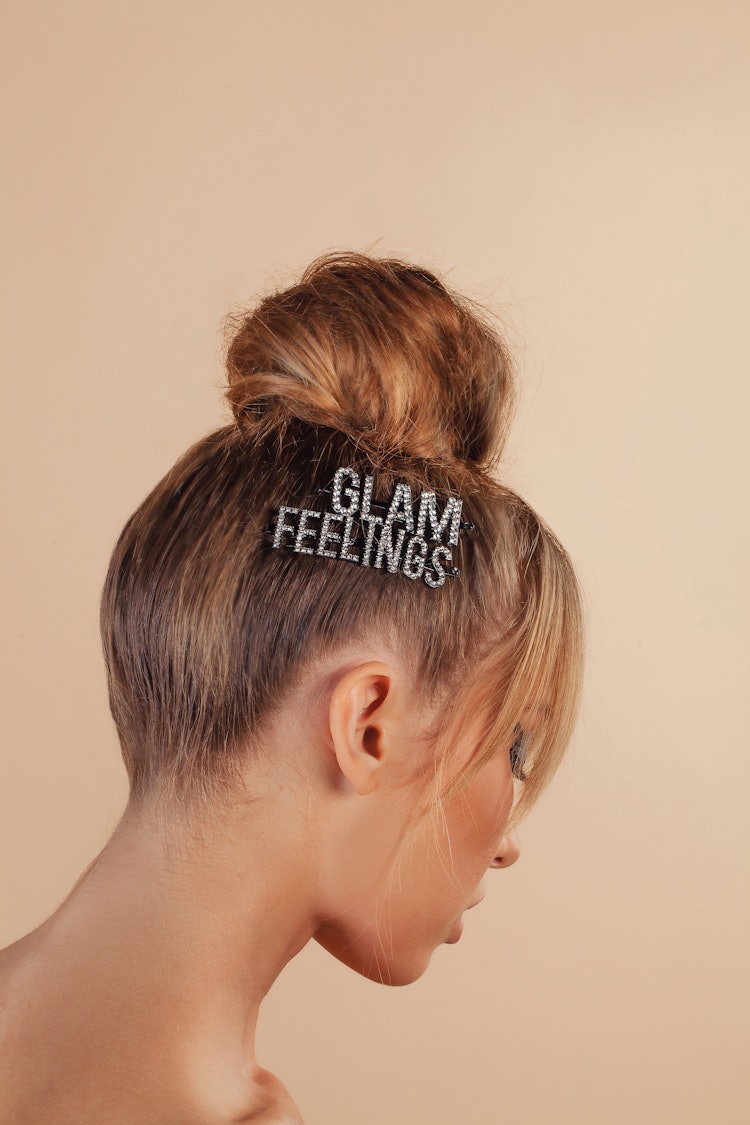 Feelings Statement Rhinestone Bobby Pin ($29, Kitsch)
And how fitting that the beauty powerhouse has teamed up with another major female player. Marjan says the partnership between her and the founder of Kitsch, Cassandra Thurswell, was a match from the beginning. "I just really love that she is so inspired by uplifting women. She started this out of her garage. She was sleeping on someone's couch while starting this company, and now it's taken off as one of the biggest hair accessory companies," says Marjan. "I'm so honored that she wanted to partner with me. She's such a great partner and it was so inspired working for them."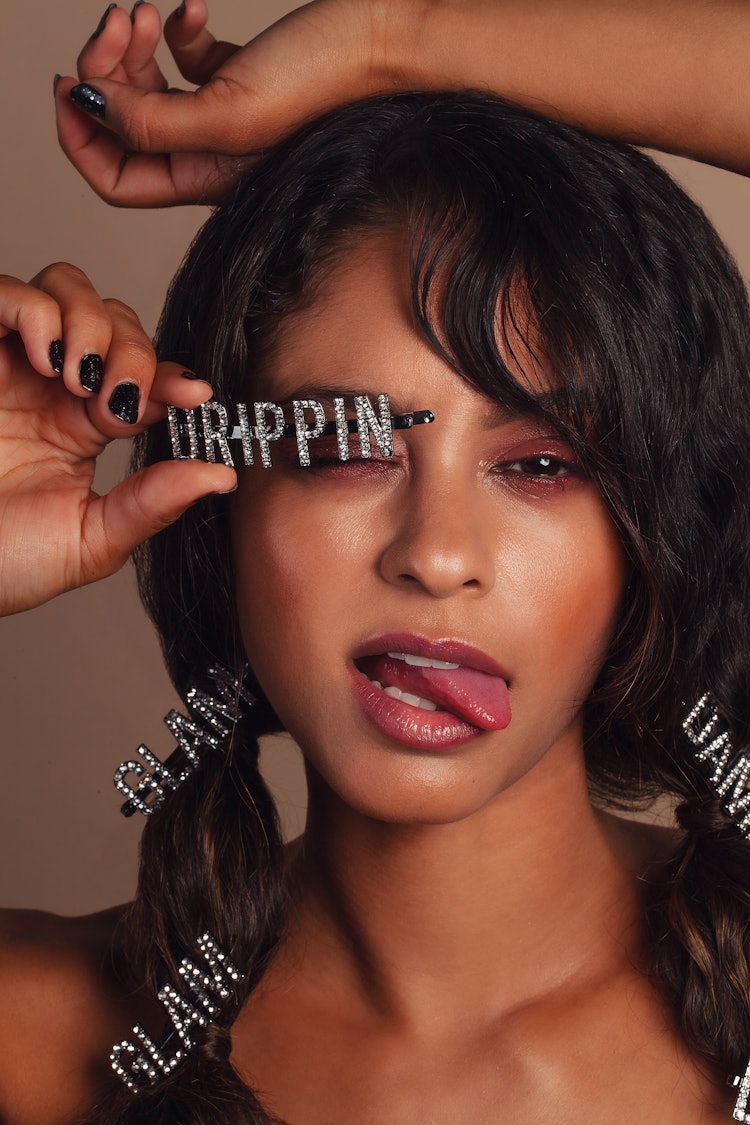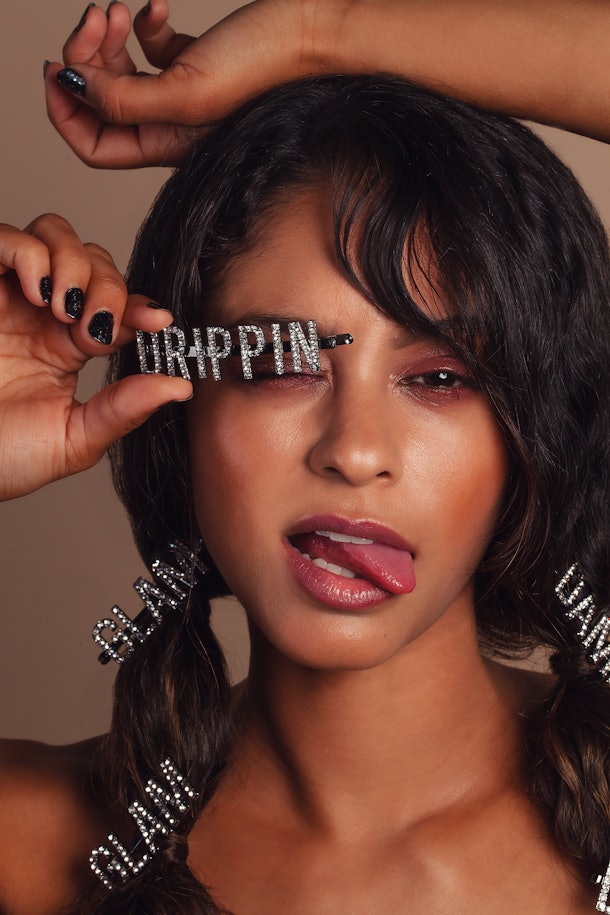 Damn Statement Rhinestone Bobby Pin ($29, Kitsch)
Even before the "Too Glam To Give A Damn" collection's launch, Marjan tells me, "I already have something in the works for the new year, and hopefully, we'll have a couple more in the works even further in the future." Though she can't give me many details, she does say, "The new collection will be different but will complement it. We'll have a good range by the end of this partnership."
Starting today, Nov. 12, the "Too Glam To Give A Damn" collection is available on Kitsch's website, ready to be worn and adored. After all, Marjan puts it perfectly: "For the every-day girl, you don't need to do a ton to make your hair look great." And now with her new collection out in the open, she's absolutely right.
Source: Read Full Article