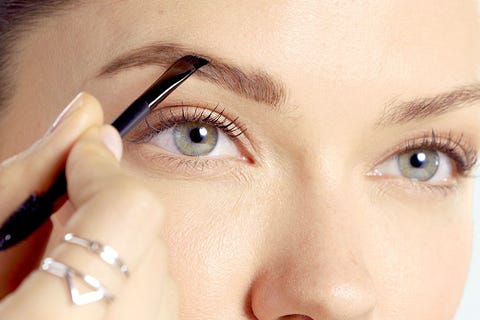 The only thing better than perfect brows are perfect brows that don't budge. They shouldn't smudge, transfer, or melt away at the slightest sign of perspiration—because it's basically a crime to spend time getting your brows *exactly* how you want them, only to sweat them off at the gym just hours later.
The pros at L'Oréal Paris took this issue seriously—as one should—and developed Unbelieva-brow: a gel that gives brows natural-looking color, makes sparse brows look thicker, fills in the appearance of gaps, and enhances them for up to 48 hours. (Talk about brows for days!) That's means you can go to work, pop into your favorite HIIT class, and then meet up with friends for dinner and still have gorgeous brows.
Obviously, we wanted to see it in action, so we had three women put its claims to the test. Here's what happened:
Sparse Brows
The first set of brows were thinned out in places, and the shape of both weren't as full as they could have been. After a couple of swipes of Unbelieva-brow, they looked naturally thicker and more defined. Boom.
Did they survive the classic I'm-so-stressed brow rub? Yup!
Shop her shade: Black
Brows with Gaps
The next set of brows had obvious gaps and were also thin and sparse. The end result? A big difference!
But were they sweat resistant? Hell yeah they were.
Shop her shade: Brunette
Light Brows
Our third and final set of brows were super light and don't frame her eyes. They got a natural-looking fill, plus elongation at the ends.
How'd the spritz test go? Everything still looked great—the product is def waterproof.
Shop her shade: Blonde
Ready to go hard at the gym without messing up your brows?
Shop all the shades and see how to apply the product:
Look 1: A.L.C top, Tai Jewelry earrings, H&M rings; Look 2: DKNY top, Tai Jewelry earring, & Other Stories and ASOS rings . Look 3: Missguided top. ASOS earrings, & Other Stories ring
Source: Read Full Article