Deep down, we're all suckers for celebrity love lives. Especially when it's the typical story of two beloved people who are in public eye falling for each other and having a beautiful, lavish ceremony. Even though it doesn't always end up as well as we wished, it's still fun to follow the entire process, from friends to lovers to married couples.
Related: Top 10 Highest-Paying Celebrity Endorsement Deals
And since we're talking about ridiculously wealthy people, we have to talk about the engagement rings. They're beautiful, they're rare, and they often cost small fortunes. But out of all the engagements we've seen throughout the years, which one takes the cake for most expensive ring ever? Let's count down the 10 most expensive celebrity engagement rings! Be warned, you might be blinded by all the bling.
Click the button below to start this article in quick view
10

Hillary Duff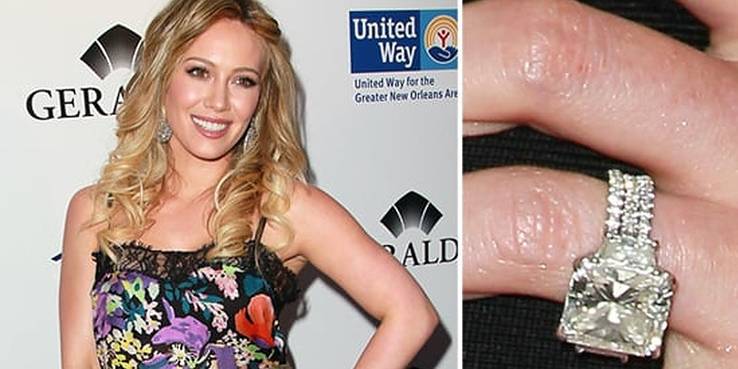 Actress and singer Hillary Duff made her way into our hearts when she was young professional making her debut in the Disney show Lizzy McGuire. While many expected her to go down a rough path, as it often happens with young people rising to fame and making a fortune, she kept going strong.
Back in 2010, Hillary was engaged to retired NHL player Mike Comrie. Even though the two ended up getting divorced, Comrie probably had high expectations for the marriage. He was smitten enough to drop $1 million on a a 14-carat, princess-cut ring, at least!
9

Kate Upton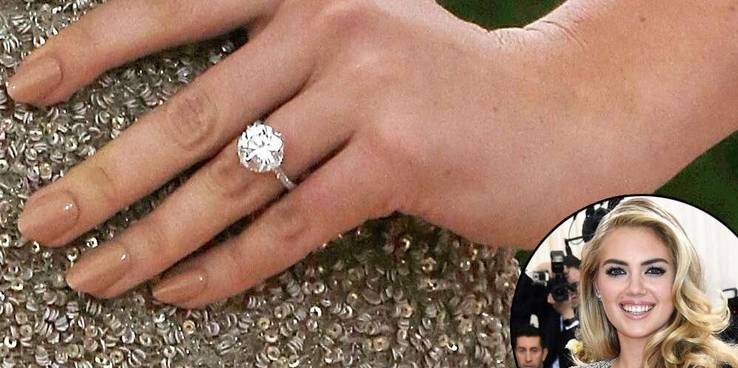 Kate Upton first rose to fame as the blonde bombshell from Sports Illustrated magazine. After a very prolific career in the modeling world, Upton made her acting debut next to superstar Cameron Diaz. her popularity has been growing ever since, and fans couldn't wait to see where her relationship with Justin Verlander was going.
Well, it went all the way, and the two became engaged. In a 2016 red carpet, Kate showed off the bling for the entire world to see, an 8-carat diamond rock that is believed to be worth at least $1.5 million.
8

Paris Hilton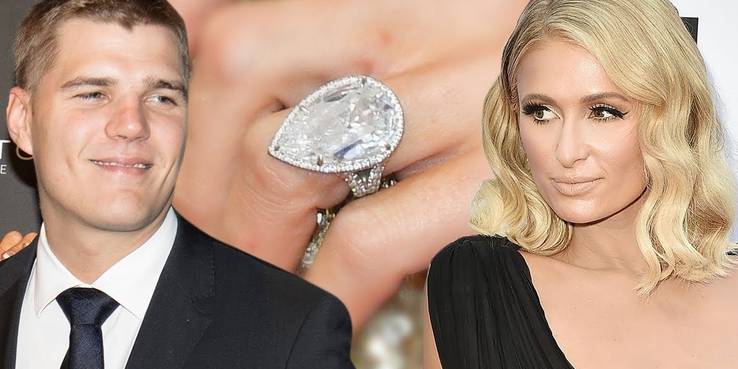 The world's favorite socialite and Kim Kardashian's former best friend is probably one of the most controversial celebrities out there. In recent years, she seems to have slowed down, and she even attempted to settle down. The heiress was engaged twice, first to Paris Latsis, and then to Chris Zylka.
Related: The 10 Most Valuable Gemstone Types In The World, Ranked
It's the latter that takes the cake when it comes to dollar signs, though. The pair did call off their engagement in 2018, but not before Zylka popped the question with a 20-carat worth an estimated $2 million.
7

Ciara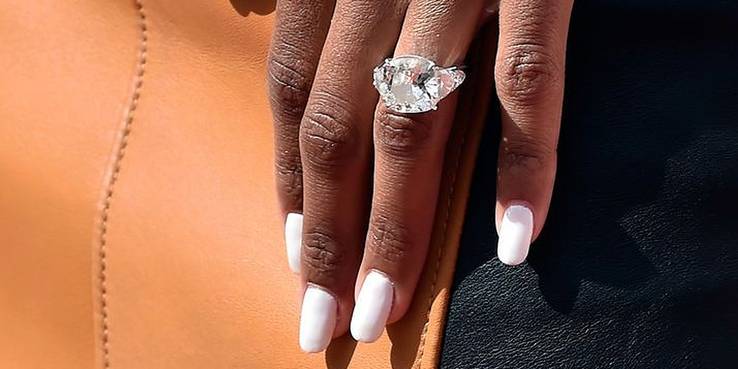 Pop princess and beloved songstress Ciara has also been engaged more than once. Even though her relationship with rapper Future granted her a beautiful rock worth half a million, it doesn't hold a candle to one give to her years later.
Upon proposing to the singer, boyfriend Russell Wilson got down on one knee and presented Ciara with a stunning rock that is estimated to be worth between $2 million and $2.5 million. The two love birds tied the knot in 2016, and have been going strong ever since.
6

Blake Lively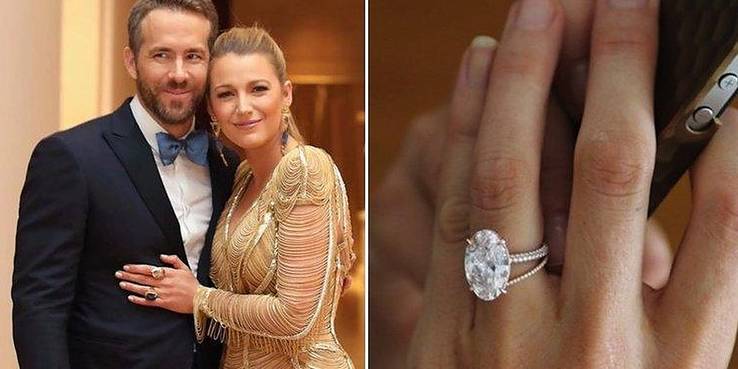 Blake Lively and Ryan Reynolds have to be one of the most endearing celebrity couples in the entire world. His Twitter banter and her responses are laugh out loud funny, and the pair seems to be more in love with each day that passes. Plus, they met on the set of a movie where they were playing love interests. What could be better?
There's no reason to believe Reynolds wasn't completely smitten with the Gossip Girl actress, especially considering he dropped $2.5 million on a 7-carat rock filled with pink diamonds.
5

Jennifer Lopez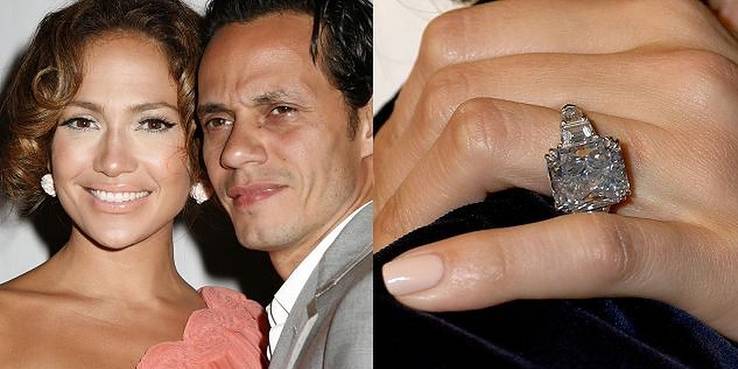 Jennifer Lopez really wants everyone to forget she was ever in a relationship with Marc Anthony, judging by how public her love life alongside beau A. Rod is. But hey, the two are adorable together. But even though her current partner dropped almost $1 million on the engagement ring he gave her, Anthony took it up a few notches.
Related: 10 Most Expensive Outfits North West Has Worn
Or a few million, if we want to get literal. Back when the two were still a thing, Marc Anthony translated his love into money. Jennifer's first engagement ring was a blue 8.5-carat diamond worth an estimated $4 million.
4

Kim Kardashian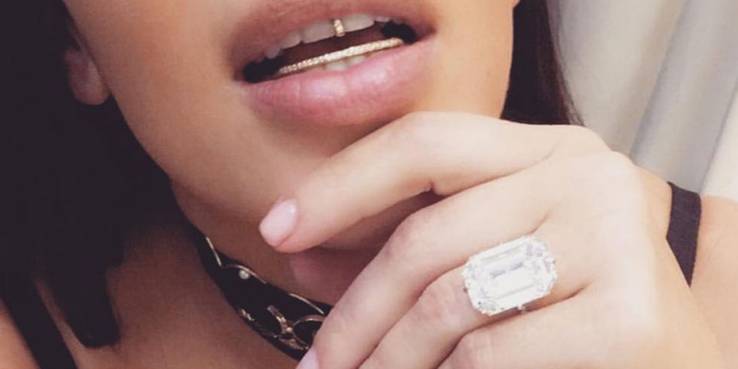 Kanye West and Kim Kardashian have quickly become one of the most popular celebrity couples in the world. It was no secret to anyone that the rapper had been interested in the socialite and reality star for years, so when they got together for real, he made sure to lock the deal with one hell of a rock.
Kanye's ring to Kim was a 15-carat diamond rock worth $4 million. Unfortunately, the piece was stolen during the famous robbery in 2016. We're sure he'll make it up when they renew their vows, though!
3

Beyoncé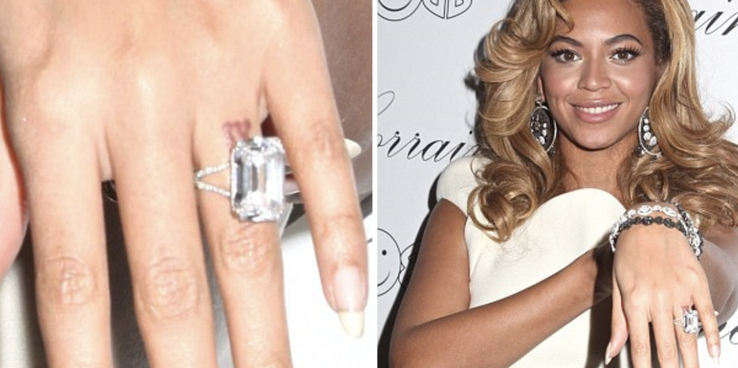 And since we're talking about power couples, how could we possibly leave out Beyoncé and Jay Z, two icons of the music industry? or just two icons in general, since the pair has accumulated the kind of fame and fortune only royal families can brag about.
When the rapper popped the question in 2008, over a decade ago, he did so with a 24-carat diamond ring estimated to be worth $5 million. Jay Z knew that if you want to marry a queen and build an empire, you have to put in the effort.
2

Elizabeth Taylor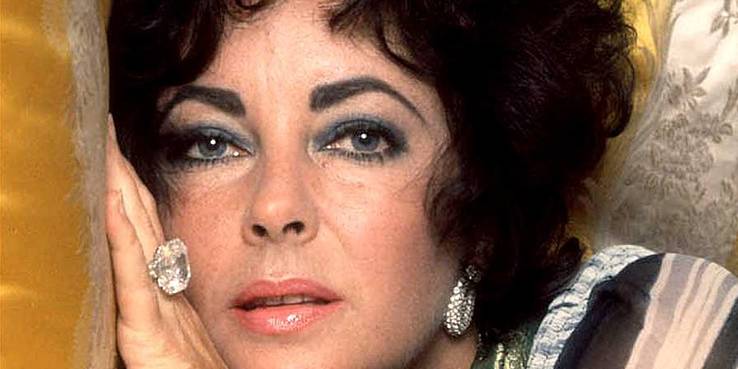 The only celebrity who isn't our contemporary on this list is Elizabeth Taylor. The infamous and beautiful actress had what can be described as an extremely rocky relationship with husband Richard Burton. Lindsay Lohan was even in a movie about the couple, so there you go.
Related: The 10 Most Expensive Pairs Of Sandals In The World
At the time though, when the two were still relatively happy, Burton proposed with a 33.19-carat rock that sold at auction for $8.8 million. If someone can prove that the ring's price tag won't equal eternal happiness, this would probably be it.
1

Mariah Carey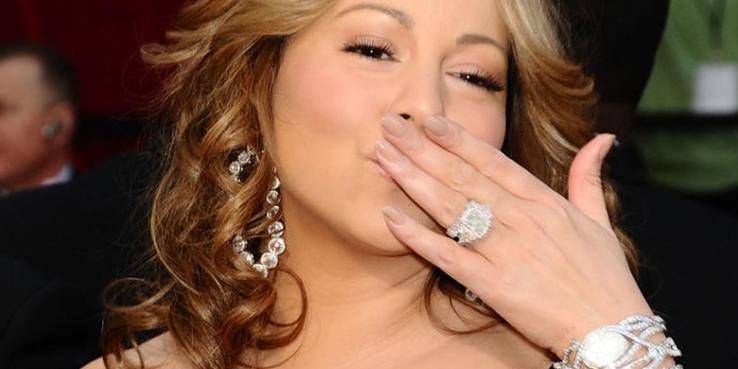 And topping the list for the most expensive celebrity engagement rings is the biggest diva of them all, Mariah Carey! Her steamy relationship with James Parker was in the public eye for years, and it escalated further when he proposed with a 35-carat ring.
In case you're wondering, that's worth about $10 million. Much like Jay Z, Parker knew that to lock Mimi down he'd have to spend a small fortune. Carey loved it so much she kept wearing it even after the pair called it quits!
Next: The 10 Most Expensive Sunglasses Brands, Ranked
Home
Luxury
Ranked: The Most Expensive Celebrity Engagement Rings
Tags:Kim Kardashian,most popular engagement rings
Source: Read Full Article