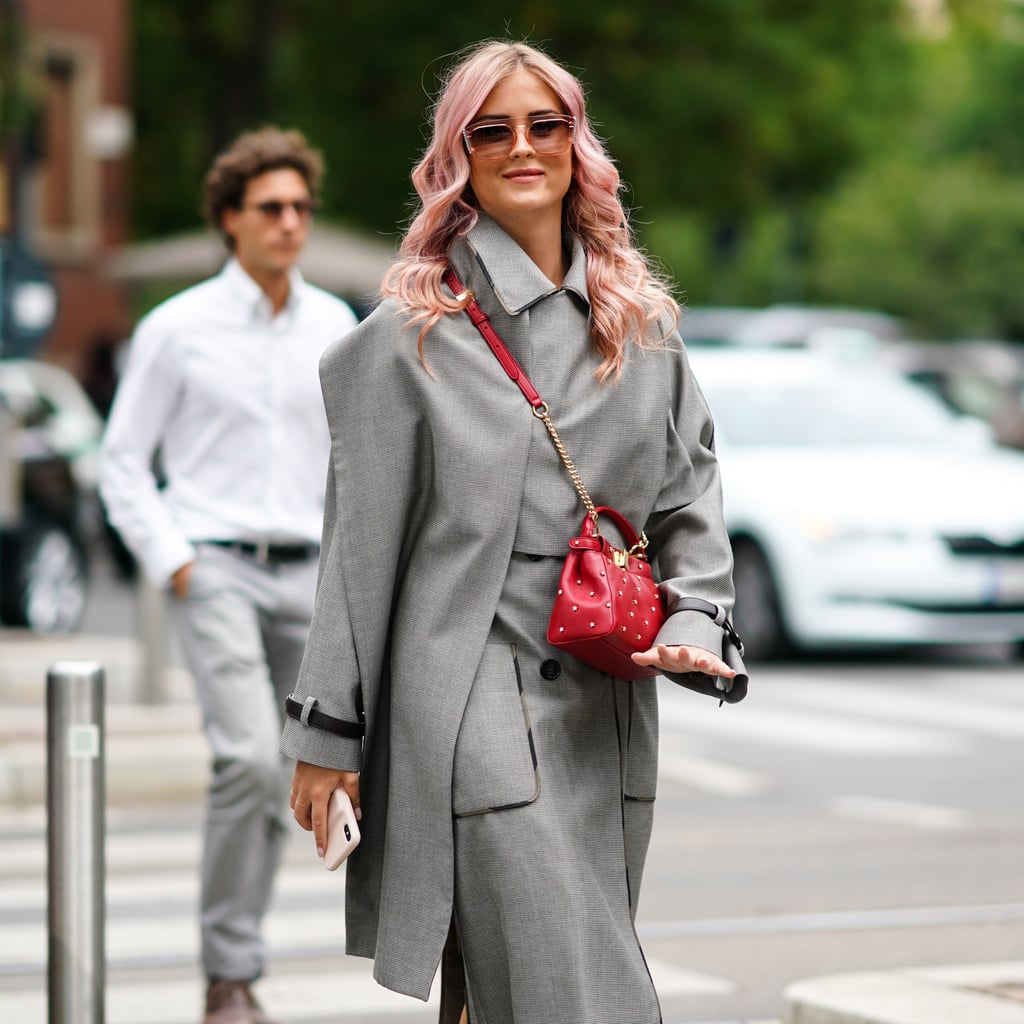 Pink Hair Is Trending — Here's How to Get the Color

If you want to try out a pink hair color, you've come to the right place.
Thanks to the Barbiecore aesthetic, pink hair is currently trending.
Get tips from a stylist on dyeing your hair pink and maintaining it at home.
So, you want pink hair. We don't blame you, what with all of the A-lister celebrities who have debuted the bright shade in the last few months. You've got Joey King, Zayn Malik, Lizzo, Megan Fox and Machine Gun Kelly, and a handful of others — and that's just a list of people who have dyed their hair pink this summer.
Pink hair comes in a variety of shades: dark-pink hair, hot-pink hair, baby-pink hair, pastel-pink hair, and every hue that comes in between. You also don't have to commit to dyeing your whole head pink if that's not your vibe. Pink highlights, pink ombré, or the peekaboo hair-color trend are all great ways to incorporate the fun color into your look without going too bold.
Not only does a pink hair color give you a super cool vibe, but psychologists say having pink hair can also impact your mood. "Pink's calming effect can actually change mood and behavior," Naomi Torres-Mackie, PhD, head of research at the Mental Health Coalition and practicing psychologist at Lenox Hill Hospital, previously told POPSUGAR. "People who are shown the color pink become more physically relaxed, less hostile, and less aggressive. Our minds and bodies are intimately connected."
To get your own pink hairstyle, you'll either need to book an appointment at your local hair salon or get yourself some boxed pink hair dye (you can go the permanent route, semi-permanent, or temporary to try it out).
Keep scrolling to learn how to dye your hair pink and tips from a celebrity hairstylist for maintaining it.
How to Dye Your Hair Pink
Your natural or starting hair color will establish how easy it is for you to dye your hair pink. "Anyone can go pink as long as their hair can be lightened to a shade of light blond," Guy Tang, celebrity hairstylist and founder of #MyDentity, tells POPSUGAR. "You will not get the same color intensity on darker hair tones, so it also depends on the look you are aiming to achieve."
Step 1: Lighten Your Hair to Blond
To start, you'll want to lighten your hair to blond if it's not already. Since it's tricky to execute this part on your own, we recommend you do this step at a salon under the hands of a professional. Once that's finished, you're ready for the next step. "Then choose your tone of pink — there are so many ranging from a light blush pink to a bright intense pink," he says.
Step 2: Select Your Dye and Follow the Instructions on the Box
Depending on what pink hair dye you buy, there should be instructions on the packaging for coloring and processing your hair — follow those instructions very carefully. A few options we like include: the OverTone Pink for Brown Hair Coloring Conditioner ($32) if you don't want to bleach or lighten your natural hair; the IGK Permanent Color Kit In French Rose ($28) for long-term color; or the Good Dye Young Color Semi-Perm Lighter Daze in Pink Puff ($18) for a semi-permanent solution.
Step 3: Maintain With a Colored Conditioner
"Pink can be a fragile tone so make sure to keep the color vibrant at home with a colored conditioner," says Tang. The #MyRefresh MyRefresh Color Depositing Conditioner ($24) in Magenta Magic or Rose Gold, depending on the shade of pink you go with, is a great option.
Tips For Maintaining Pink Hair
Pink is a whimsical hue, but it requires a bit of upkeep. "It's a shade of hair color you have to maintain with care, meaning the color needs to be kept up either at home or by going back to your stylist regularly to get it refreshed," says Guy.
The shade can fade quickly but you can extend it by following these tips: "Try to limit how frequently you wash your hair and always use a color-safe shampoo," he says. "Using a heat protectant is also important as hot tools can contribute to a quick color fade."
For pink hair inspiration, keep scrolling.
Source: Read Full Article