Even in my late 20s, I'm still obsessed with all things sparkly. And while there have been times in my life when piling on the color and shine hasn't always been en vogue, to say the least, 2022 certainly isn't one of them. Y2K-inspired looks are back with a vengeance, baby, and rightly so: Who couldn't use a serotonin boost after the past few years we've been through? So, while scrolling through TikTok recently, I was instantly enamored by this throwback-style hair blinger device that's going viral on the platform (RIP to my old hair bedazzler from the '00s).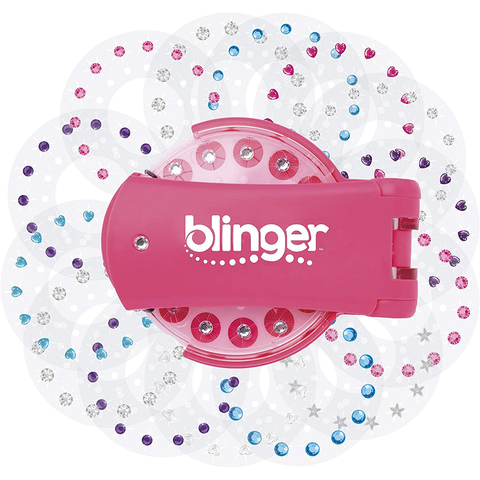 A search of #hairblinger brings up pages upon pages of TikTok users touting Blinger's Glam Styling Tool, which seems to add ~uncut gems~ to your hair with an easy click and press. (Many users credit Sophie Murray, whose tutorial on the device alone has over 8 million views, with starting the avalanche effect.) Here's how it works: Simply fill the device with an included sheet of gems, place a section of hair under the bottom tab, then click away. It reminds me of operating a hole puncher, but obvs so much better.
TikTok made me buy it!!! #tiktokmademebuyit #hairgems #blinger #fyp
Each gem is made with an adhesive so that it sticks to hair, and many users comment that the adhesive is strong enough to keep the gems in place for hours. To remove, all you need to do is gently pull off the decals or run a comb through your mane (video tutorials show that, yes, this does work as promised!)
The tool, which is amazingly on sale now for $12 on Amazon, comes as a set with 225 gems of all colors and shapes, like flowers, hearts, stars, you name it. And, you can use them on more than just your hair, too, like on your cheekbones to nail a fun festival-ready look or even to bedazzle your phone case. Translation: There are no bounds to how extra you want to get with this.
Reply to @shanezvulun nose piercing ?! #hairblinger #hairgems #hairbejeweler #hairjeweler
If you were skeptical, here's your proof that hair gems—and the hair bedazzlers of yesteryear—are having a major moment. The hashtag alone currently has more than 40 million views on TikTok. In the past few years, we've also seen the look pop up on a few occasions, like on Cassie or Maddy from Euphoria and with similar vibes via Area's decadent, jewel-dripping hair accessories for the brand's fall/winter 2020 collection.
https://www.instagram.com/p/B0_omCZh5a1/?utm_source=ig_embed&utm_campaign=loading
A post shared by Kirsten Sage Coleman (@kirinrider)
I could continue waxing poetic about this multifunctional hair blinger device, but instead, why don't you go ahead and try it yourself? Keep in mind that it's not available with Prime shipping, so if you have an event you want to use it for, make sure to plan ahead!
Source: Read Full Article