Kelly Ripa's children are growing up fast and now her youngest son, Joaquin, has hit another major milestone.
The famous family – including Kelly's husband, Mark Consuelos – all delighted in celebrating Joaquin's 20th birthday and shared multiple photos and videos on Instagram to show how much they care.
Kelly, Mark and their other children, Michael, 25, and Lola, 21, posted messages paying tribute to the birthday boy who has grown into a handsome young man.
WATCH: Kelly Ripa's son and daughter share glimpse into their very different lifestyles
Alongside images of him through the years, Kelly wrote: "Happy 20th Birthday Joaquin," while Michael called him his "best friend".
There were several photos of Joaquin enjoying student life on campus in Michigan – and he's now taller than his siblings and easily towers over his parents too.
POPULAR: Kelly Ripa's son debuts major hair transformation – see photo
MORE: Kelly Ripa reveals surprise injury while visiting son Joaquin live on show
Joaquin moved away from New York City in 2021 to study and Kelly and Mark have been incredibly supportive of him and his passion for wrestling.
A post shared by LIVE with Kelly and Ryan (@livekellyandryan)
Kelly shared several never-before-seen photos of her son growing up
They enjoy going to Ann Arbor – where they have a rental home – at the weekends and during the holidays, and most recently paid a visit to their youngest child at the end of January, which they opened up about on Live! the following day.
What makes Joaquin's success even more amazing is that he is "profoundly dyslexic and dysgraphic".
MORE: Kelly Ripa reveals surprise injury while visiting son Joaquin live on show
POPULAR: Kelly Ripa reacts to Live! co-stars long-awaited baby news
Kelly wrote about her son's dyslexia and dysgraphia in her book Live Wire, noting that she noticed the conditions when he struggled with reading and writing during childhood.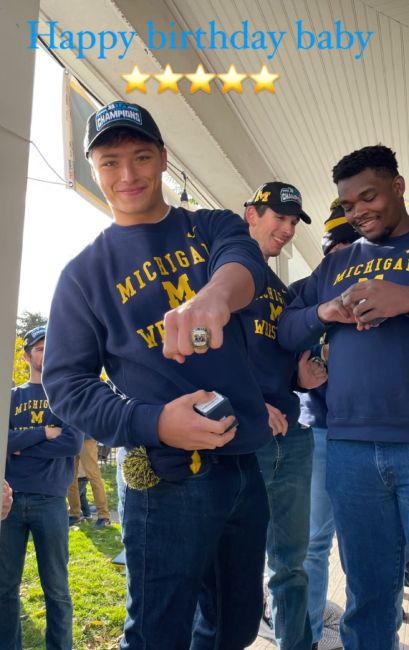 Joaquin is loving life at college
They enrolled him in a school to aid those with learning disabilities, which she stated made all the difference and saw him "on his path to not only loving school but excelling at it."
He graduated in 2021 from the school Honors Society, also winning achievement awards in math, art, and science and ultimately headed off to university to join their renowned wrestling team.
Read more HELLO! US stories here
Keep up with the latest celebrity stories Sign up to our HELLO! Mail newsletter to receive the latest news straight to your inbox.
Source: Read Full Article