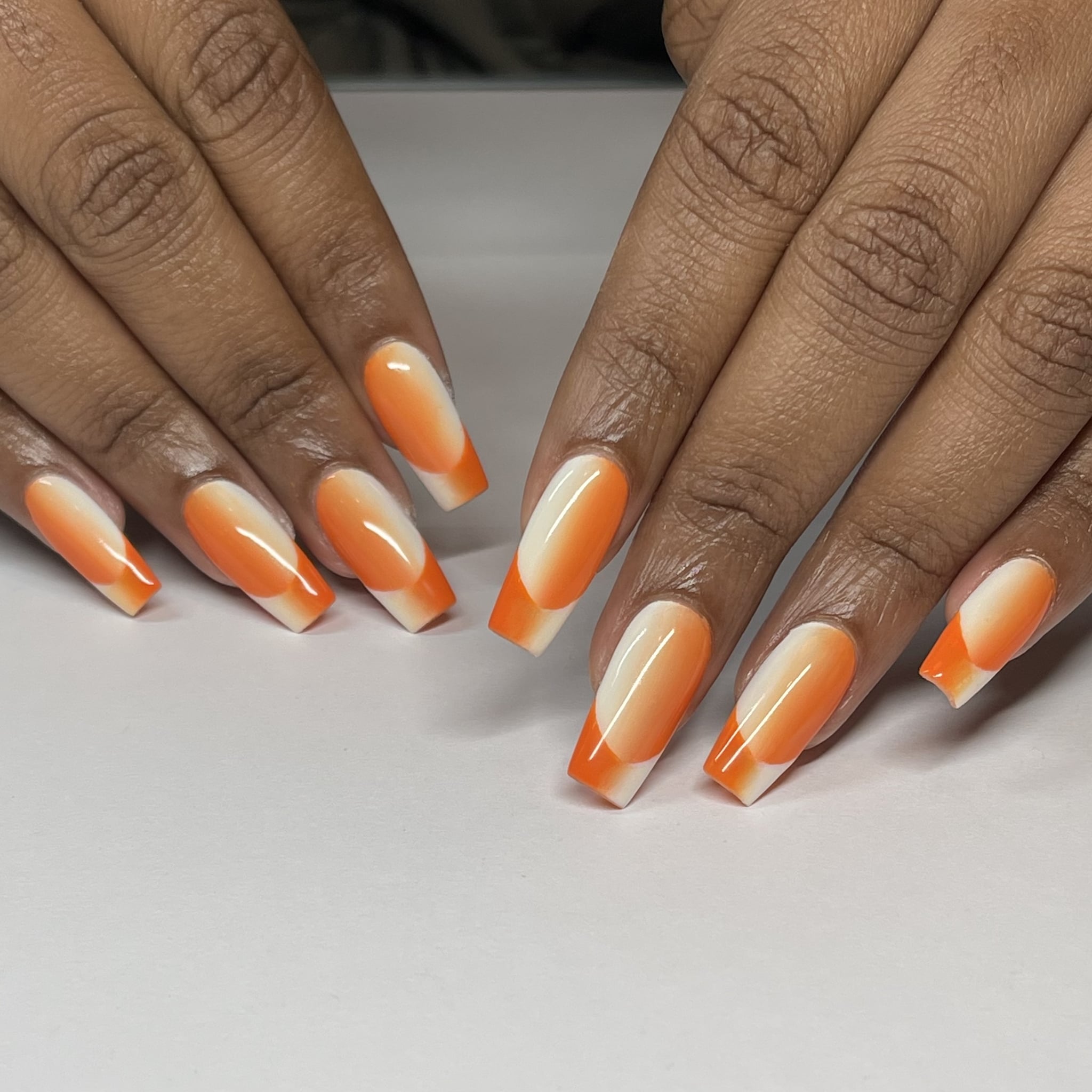 Image Source: Natsuki Amano for Vanity Projects

Shadow french manicures are trending on TikTok.
The nail-art trend features contrasting colors along the tips and base of the nail to create a gradient effect.
One editor tried shadow french tips and is sharing her results below.
It's one thing to get my hair or makeup done, but there's nothing that makes me feel quite as instantly put-together as when I have my nails done. That's why I love keeping an eye on new nail trends to keep my inspiration folder fresh and exciting.
Every once in a while, though, a new design jumps immediately from my social media feed onto the top of my "must-try" list. That's exactly what happened when I saw the shadow french manicure on TikTok. The look involves two different polish colors painted down the base of the nail and along the tips in opposite directions to create a gradient, almost illusion-like finish.
In a video that has since been viewed over eight million times, user Gabrianna Nails showed her version of the trend using complementary brown tones. When I saw how sexy one set of nails could look, I knew I had to try it for myself.
Yes or no?🤎💅🏽 #fyp #nails #frenchtip #viral #trending
I headed to Vanity Projects in New York City to see nail artist Natsuki Amano so I could put the trend to the test. Because I wanted to somewhat incorporate Halloween into the manicure, I chose orange and white for my two contrasting colors, and Amano immediately got to work.
First, I needed more length to work with. While this technique can work on acrylic nails, I chose to opt for gel-x extensions because they tend to be more gentle since they don't require acid-based products. I've also found that they are also much easier to remove without damaging my natural nails.
Once the nails were shaped and placed, Amano first applied two coats of the Leafgel Gel Nail Polish ($26) in the shade 002 — a bright white — to the left side of each finger, stopping just short of where the french "smile line" would begin. She then did the same thing on the right side of the nail but with the shade 022 ($26), a bold orange. Once the orange polish was applied, Amano used light strokes to blend the line of demarcation between the two shades, giving the hazy gradient effect that is the trademark of the trend.
After she cured my nails, Amano followed the same technique but, this time, just at the tip of my nails and in the opposite order. So whereas orange was the shade used on the lower left half of my nail, for the tip, she added white. Where white was used for the lower part of my nail, she added orange for the tip. After that, she blended the two colors together and cured my nails once more. For the last step, she added the IBD Hard Gel Top Coat ($18) to impart a glass-like shine.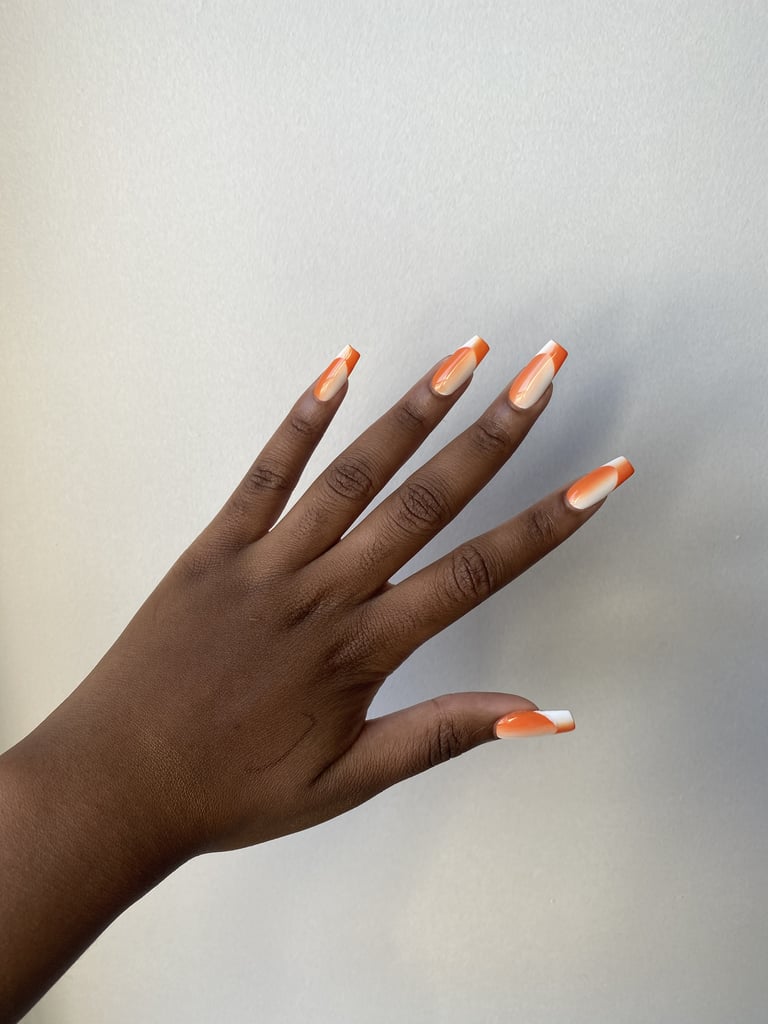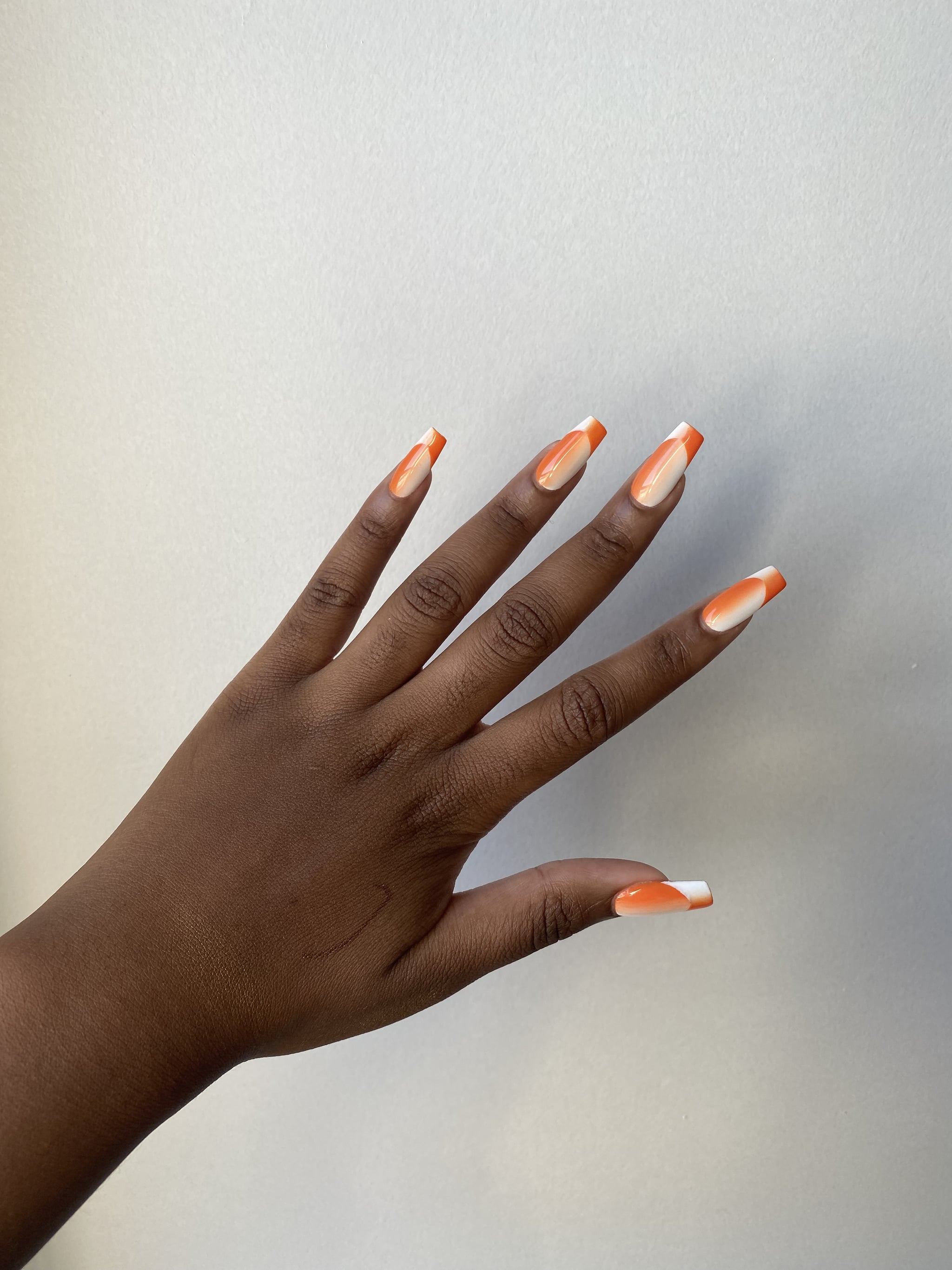 Image Source: POPSUGAR Photography / Ariel Baker
The end result was an eye-catching (and slightly trippy) manicure that looked like I had mirrors on my nails. The look was fitting for Halloween without being too overly themed, and the colors were perfect to really show the contrast — and the sick technique — of the shadow french trend. I will note that my appointment did take two and half hours from start to finish and can cost upward of $200 because of the level of detail. (Of course, that also depends on if you live in a major metropolitan city and which salon you go to, but the price for intricate nail art does tends to veer higher.)
Don't let that scare you, though. If you're a nail-art-lover looking to try something new or just want a new set that will 100 percent spark conversation, give the shadow french manicure a try.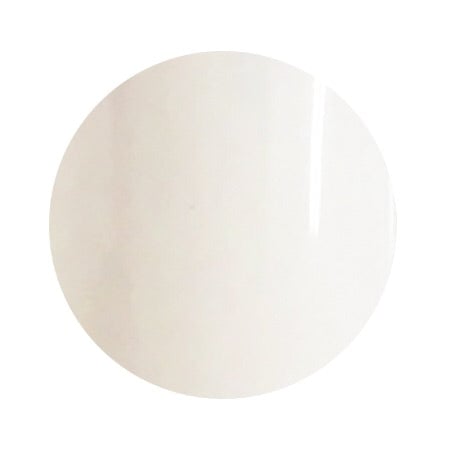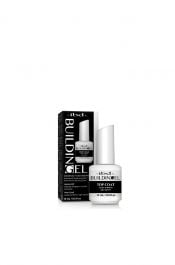 Source: Read Full Article