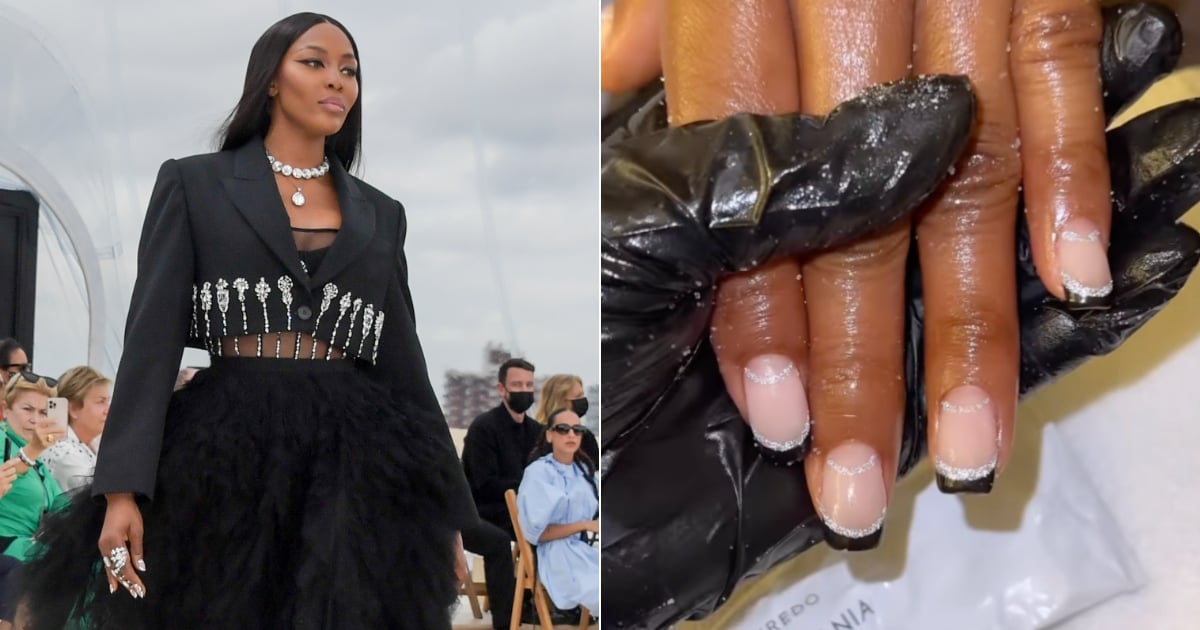 Let's cut to the chase: I'm a beauty editor, so while I adored the fashion at the Alexander McQueen 2022 show (truly, it was a work of art), the one thing I couldn't keep my eyes off was Naomi Campbell's glistening nail art. The British supermodel made her McQueen runway return wearing a negative space double french manicure. Luckily for us, we got all the details from manicurist Michelle Class.
"A french mani has been on everyone's [Instagram] grid for a while now, but we wanted to give it that 'edgy London attitude,'" Class told POPSUGAR. "This was a take on Naomi's Milan and Paris nails, by creating a french manicure with a negative space half moon."
This particular design featured a double french with black polish on the tips and silver glitter underneath with glittered negative half moons on each nail. The result was minimalist yet glamorous. "I love the way that it catches the light — it literally shines like hundreds of thousands of diamonds," Class said. The perfect amount of glitter whilst still being ultramodern is something that Class expects we'll see lots more of in the festive season.
For this look, Class's go-to products included the Bio Sculpture gel for the sheer pink and black tips. Then for the dazzling sparkles that outlined the french tip and negative space half moon, she used BrillBird Hypnotic Diamond Gel.
Hand care is just as important to Class. She uses Byredo hand and nail scrubs "Not only are the scents to die for but they're also light easy to keep in my bag or kit (which I don't weigh too much)." She finished her manicure with Campbell off using a deep hand massage with a selection of oils for both scent and moisture. "I'm loving the Augustinus Bader Body Oil for the ultimate luxe feel."
We've never added a manicure to our nail mood board faster.
Source: Read Full Article