Ben Hassett for Allure
History in the making!
2020 is off to a pretty epic start for Pose star Billy Porter. The performer has been chosen as Allure magazine's first ever male cover star. The actor has had a whirlwind couple of years to say the least, and this newest honor is just another box checked in his lavish and illustrious career. In 2019, he won an Emmy for his role as Pray Tell in Pose, which means he's just one Oscar away from an EGOT.
Allure Editor-in-Chief Michelle Lee was excited to introduce Billy to the fold and shared in a story of his momentous accomplishment, along with a post on her Twitter about the importance of this cover. "So proud to have @theebillyporter making history today as the first man to be featured on the cover of @Allure_magazine." Billy sat down with Allure to share his journey to self-expression and what he learned from Oprah Winfrey.
While he may be the intensely creative and confident actor many have come to know and love, Billy actually originally started out pursuing music. "In the music business, in particular, I failed as somebody else," he shared. "There's nothing worse. I didn't know that that's what I was doing. I wasn't intentionally doing that. But at the end of this really long, arduous journey inside of the '90s R&B music world, I ended up with nothing and had failed to do what they told me to do."
While he didn't fully realize his dream of being the "male Whitney Houston" he luckily stumbled across an episode of The Oprah Winfrey Show that helped redefine his identity. "It's inside of your authenticity. The very thing that everybody's telling you is wrong is exactly what you have to be," were the words uttered on an episode of the beloved talk show where Oprah was interviewing guests Maya Angelou and Iyanla Vanzant.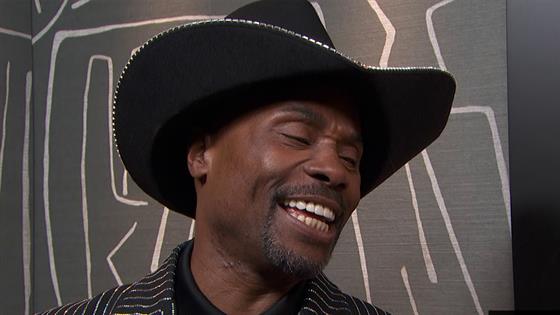 He's here and he has no plans of leaving anytime soon. "It's time. I'm a part of the first generation of gay men, ever, who gets to be out loud and proud in the world," he expressed. "My generation is the first. Bitches are scared. And they should be."
The February Art of Beauty issue is on national newsstands on Jan. 21.
Watch E! News weekday mornings at 7 a.m.!
Source: Read Full Article