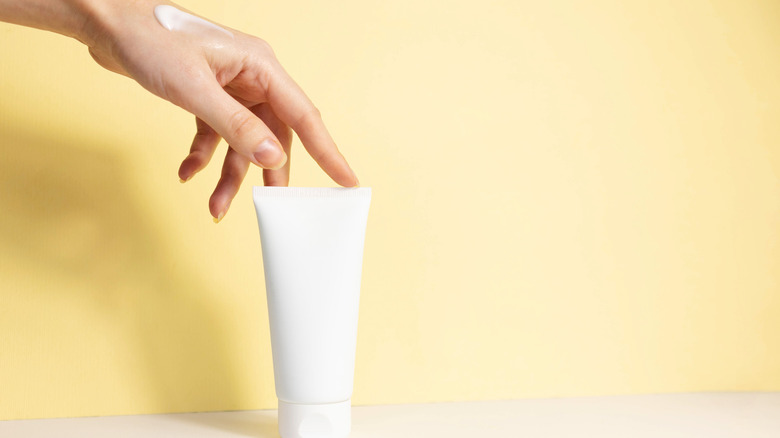 With many of us relying more and more on our trust hand sanitizer in our day-to-day lives, it's no wonder hand lotion sales are rising exponentially (via Globe News Wire). While we'll always put safety first, sanitizers leave our hands feeling chapped, rough, and seriously run down, with fine lines looking more prominent than ever. You might think a quick fix is fine, rubbing on your trusty, run-of-the-mill drugstore lotion every now and then for some gentle rejuvenation, but hear us out: anti-aging hand cream is the new beauty craze for a reason.
Think about it this way: you probably already have your nightly skincare routine down pat, consisting of a creamy face wash, pore-quenching toner, anti-aging moisturizer, and if you're attempting a K-beauty glass skin regime, just around 15 more steps. Your lips may already be getting some much-needed T.L.C. with a plumping lip treatment like the cult-fave Laneige's Lip Sleeping Mask ($22), and you might stay true to your favorite firming body moisturizer like Supergoop's Forever Young Body Butter ($38). If you're a beauty lover, chances are, you have an anti-aging trick or tool for just about everything — but does that include your hands? It's no secret that hands get a ton of wear and tear throughout our lives, from cooking and cleaning to all those UV rays from holding the steering wheel day in and day out. A great anti-aging hand cream can ward off premature wrinkling and even improve age spots — here are our top picks.
But first, SPF for the hands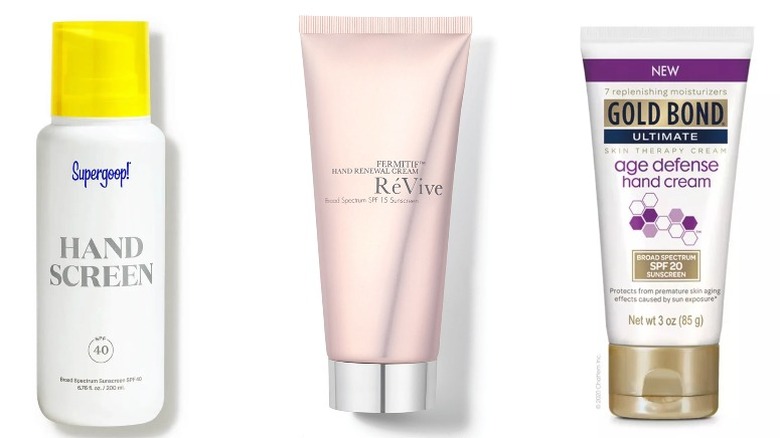 SPF is a must-have in anyone's beauty arsenal, defending the epidermis from the sun's harmful rays. Even if you hate tanning and you'll never be caught laying out on the beach, a good sun protectant is still crucial. As dermatologist Dendy Engelman, MD told NBC, ​"if our skin is unprotected and exposed to the sun's rays for even 15 minutes a day, that can have a very real cumulative impact." So why not kill two birds with one stone and nab a hand cream with sun protection?
This Supergoop! Handscreen SPF 40 ($38) is formulated to fight UV rays head-on, while still soothing hands with argan oil and meadowfoam seed oil, which "fights off oxidation." As per The Strategist, this "lightweight" formula blends quickly, and its omega-7-rich sea-buckthorn extract also works to even-out and plump skin.
A pricier, super-luxe alternative, Revive's Fermitif Hand Renewal Cream Broad Spectrum SPF 15 ($85) is an insider cult-fave. This lotion is "powered by bio-renewal technology" and a "firming hand complex" which strengthen and smooth your hands' skin. Forbes says this lotion "does it all," reducing "the appearance of age spots," preventing sun damage with SPF, and featuring a calming rose scent, too.
And last, an unexpected drugstore powerhouse you'll always want in your purse: Gold Bond's Ultimate Age Defense Hand Cream ($5.99). With a dose of SPF 20, this lotion includes "skin-softening ceramides, "brightening vitamin C" plus a skin-firming complex to improve firmness with no sticky feeling (via Elle). 
Hand creams with hefty doses of hyaluronic acid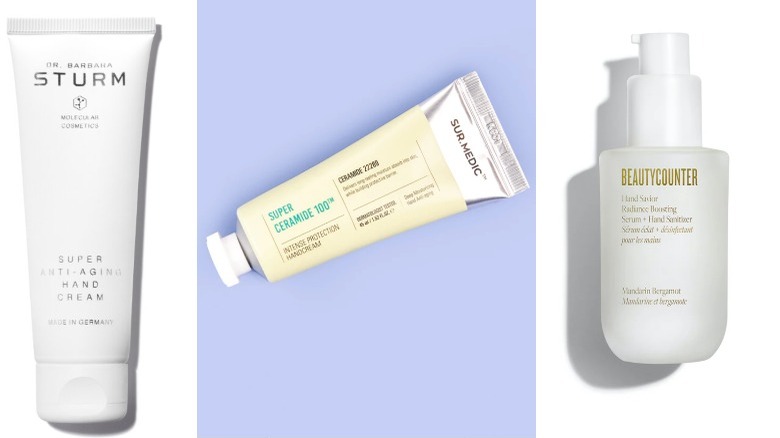 Sure, moisturizing oils are great ingredients in any anti-aging hand cream, but few beat hyaluronic acid. As Healthline explains, hyaluronic acid is "naturally produced by your body," and applying it on skin gets to the root of the problem by reducing wrinkles. It injects hands with suppleness, so yes, we need it!
Try celeb-favorite Dr. Barbara Sturm's Super Anti-Aging Hand Cream ($65) if you want a lotion that truly does it all. This is a fast-absorbing "ultra-rich" cream that will take you from summer to winter, using hyaluronic acid and prickly pear to hydrate hands all day (via InStyle). Ceramides protect the skin, daisy flower extract reduces discoloration, and antioxidants promote long-term skin firmness.
A wallet-friendly, effective alternative, this K-beauty Sur.Medic+ Super Ceramide 100™ Intense Protection Hand Cream ($10) will make your hands more supple than ever. Teen Vogue says it's the "Best Affordable Hand Cream," including five ceramides to seal in moisture, plus creamy shea butter and hyaluronic acid. Its anti-aging complex comes from adenosine, which can prevent fine lines.
Of course we want a hand cream that's an amazing deal, effective, and saves you counter (or purse) space. But does it exist? Look no further than BeautyCounter's Hand Savior Radiance Boosting Serum + Hand Sanitizer ($27.20), which is "a hand serum and a hand sanitizer in one" (via Yahoo). This cream fights bacteria while boosting skin with hyaluronic acid, niacinamide, sweet almond oil, and skin brighteners that reduce age spots.
When in doubt, go for antioxidant-rich lotions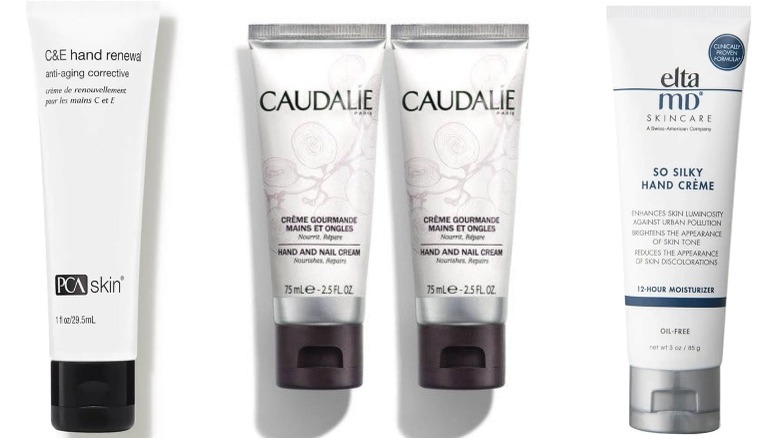 Antioxidants are a beauty editor go-to, and it's easy to see why: as dermatologist Lian Mack, MD told Well + Good, they "protect the skin by reducing and counteracting free radical production," and "help reduce pigmentation and fine lines." So of course, an antioxidant-rich hand cream is a must.
This PCA SKIN CE Hand Renewal: Anti-Aging Corrective ($80) works to combat past signs of aging through the antioxidants L-absorbic acid, also known as pure vitamin C, and tocopherol. It is seriously-powerful, smoothing out fine lines after just four weeks, and brightens hyperpigmentation. As per The Zoe Report, it "helps give your hands a fighting chance against the environmental stressors they encounter," so a total win.
Parisian skincare brand Caudalíe is known for its face serums, toners, and do-it-all moisturizers — and it doesn't skimp on hand care. Go for this two-for-one Hand and Nail Cream Duo ($24) so you can leave one on your nightstand, and one in your purse. Moisturizing shea butter absorbs quickly, avocado oil is just as nourishing, and antioxidant-rich grapeseed oil works for anti-aging. Stay for the "luxe" feel and "grease-free" formula (via Total Beauty). 
We also love this "majorly hydrating" EltaMD So Silky Hand Creme ($21), recommended by Real Simple, which features the antioxidant vitamin E to steer clear of free radicals. It brightens skin and reduces dark spots through clary sage, and includes ceramides and jojoba for 12-hour moisture. This lotion is perfect for slept-in moisture.
Discoloration and hyperpigmentation? Say no more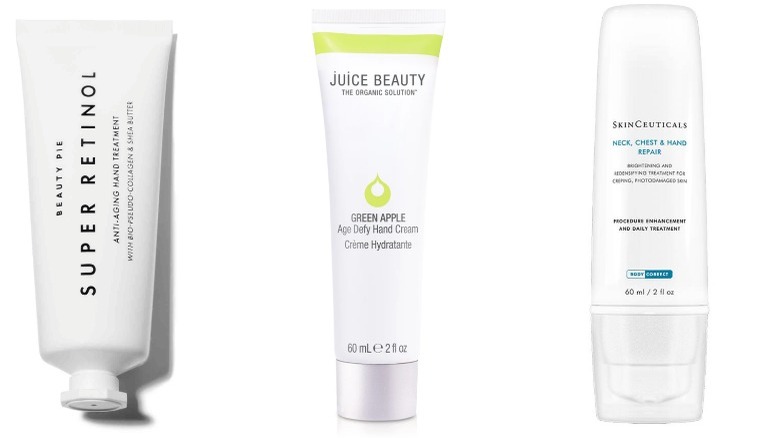 Many of the lotions we've listed already have discoloration-fighting properties, but creams that laser-focus on hyperpigmentation will take you even farther. Using retinol and peptides to get rid of dark spots stat, these are great to improve uneven skin tone and any signs of aging.
Although you might associate retinol with something you put on your face every night, this Beauty Pie Super Retinol Anti-Aging Hand Treatment ($50) brings retinol to your hands with ah-mazing results. Byrdie recommends it for fighting "pigmentation and fine lines" and for faster "skin cell turnover," while hundreds of five-star reviews say this lotion is "brilliant for getting rid of brown spots," and "improves texture." This cream's mix of collage, shea butter, and retinol will lighten spots and elasticize skin.
The organic Juice Beauty Green Apple Age Defy Hand Cream ($12) is wallet-friendly and effective. Formulated to fight uneven skin tone, it uses green apples' malic acid and vitamin C to brighten spots, peptides for firmness, and aloe, shea, and jojoba for soothing benefits. As per Don't Waste Your Money, this "age-defying" lotion improves dryness and wrinkles, while staying all-natural.
Skinceuticals is a dermatologist-favorite, and it never disappoints: this Neck, Chest & Hand Repair Cream ($71) is no exception. Formulated to combat aging in the areas we need it most, it fights much-dreaded wrinkles and "crepiness." HintMD says it "doesn't get much better" than this lotion for "redensifying" skin, and it's scientifically-tested to brighten age spots and smooth texture.
Mega-moisturizing powerhouses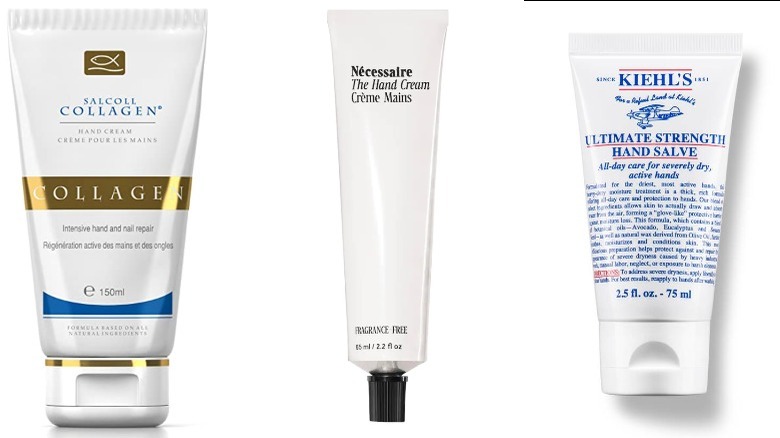 While summer's heat usually helps skin's moisture (unless you live in a desert — or the North Pole), winter is fast-approaching so it's time to start thinking about your cold-weather hydration routine. You may already have a face cream for even the flakiest of spots, but a rich hand cream is just as important.
Salcoll Collagen's Pure Bioactive Anti-Aging Repair Hand Cream ($29.94) is deliciously-thick, while packing a punch with marine collagen to smooth wrinkles and help "rebuild your skin's barrier." Oprah Daily named it the Best Anti-Aging Hand Cream on Amazon, repairing damaged tissues through proteins and elastins. It seals-in moisture with zero grease, and hundreds of five-star reviews show this is "so worth the price tag," and "dramatically changes" hands.
Influencer-favorite brand Nécessaire has added another necessity to their line: The Hand Cream ($20). This cream is rich yet rapidly-absorbing, fighting dryness through niacinamide and marula oil. Vitamin C and E, omega-6, and omega-9 work as a "glove for the hands" against the cold, so it's no wonder it's "all over the desks of beauty editors" (via Teen Vogue). Peptides protect the skin, while it's fragrance-free approach is perfect for sensitivity.
When in doubt, go for "a classic" like Kiehl's Ultimate Strength Hand Salve ($16), which never fails with shea butter, avocado oil, and sesame oil, moisturizers that deeply-hydrate yet absorb fast (via Forbes). This is a "heavy-duty" lotion that repairs hands used to "manual labor, neglect," or pollution, and is a true salve-ation for winter-dryness.
Source: Read Full Article