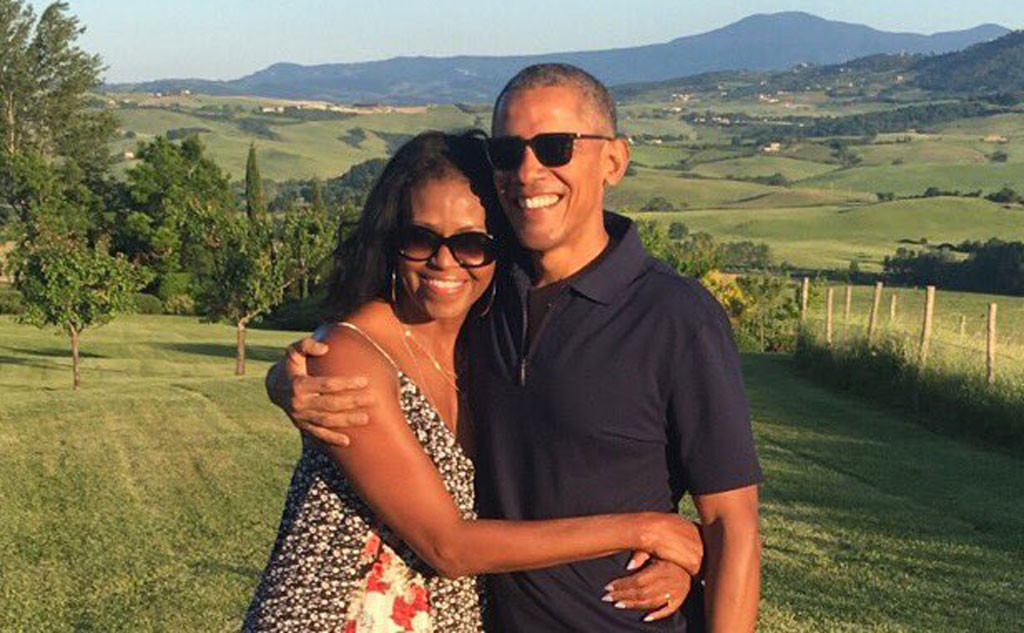 Twitter
If behind every great man there's an even greater woman, what sort of superlative should be reserved for Michelle Obama?
Well, the former first lady might implore you to turn it down a notch, for starters.
On a cross-country book tour since last year in support of her best-selling memoir, Becoming—they had to add dates due to popular demand, naturally—Obama has made it clear that she and her husband of 26 years, former President Barack Obama, are at the end of the day only a couple of humans doing the best they can. Which may have come as a shock to the millions who've put them on a pedestal, not just individually but as a unit, the end-all and be-all of what marriage should look like.
Or at least as the most enviable couple to ever live in the White House.
They may still deserve that title, and in December the Obamas topped Gallup's respective annual polls ranking the Most Admired men and women alive.
But Michelle—who in Becoming has shared more personal details than ever before since she's been in public life—has effectively and purposely punctured the myth behind the Man and the Woman who made history as the United States' first African-American president and first lady and had no choice but to figure out how to shoulder an unprecedented amount of expectation in the glare of the world's most demanding spotlight.
Which, in turn, probably made them all the more admired.
"Barack and I spent eight years trying to operate in complete perfection because we didn't feel like we had a margin for error," Obama told Sarah Jessica Parker in December when her tour stopped at Brooklyn's Barclay Center for a Q&A. "Which we were used to, because oftentimes when you're the first or the only, the bar shifts a lot. The bar gets set, you meet it, you exceed it, they move the bar."
Leigh Vogel/WireImage
"I know too many young couples who struggle and think somehow, there's something wrong with them," Obama told Good Morning America's Robin Roberts. "I want them to know that Michelle and Barack Obama—who have a phenomenal marriage and who love each other—we work on our marriage and we get help with our marriage when we need it."
"Because we're role models," she told People in November, "it's important for us to be honest and say, if you're in a marriage and there are times you want to leave, that's normal—because I felt that way."
The former first couple had only recently gone on a trip to Palm Springs, Calif., that was just the two of them, as in no kids and no famous friends, and Michelle reflected on how nice that was.
"We swam, we sat, and he wrote because he's still writing his book. So he's a little resentful," she teased.
Her written recollections span the duration of her life, from girlhood and law school to what it was like in 2017 to leave the keys to the castle in the hands of Donald and Melania Trump(who, Michelle says, has not called her for advice, though the line remains open).
"By the time we got on that plane and closed the door, I wept," Obama told Parker. "I told Barack, 'That was so hard. What we did, and how we had to do it, was so hard.'"
But it's the intimate look at her family life that has proved particularly relatable for so many.
Among the most personal revelations: After Michelle suffered a miscarriage, which she describes in the book as a "lonely, painful, and demoralizing experience" for her, the Obamas proceeded with IVF to help conceive both of their daughters, Malia Obama, now 20, and Sasha Obama, 17. And the Obamas have been to counseling—because Michelle was hoping the therapist could "fix" her husband.
Ron Sachs-Pool/Getty Images
Harvard Law School student Barack Obama—or Barry, as some friends called him—had just started work as a summer associate at the Chicago firm Sidley & Austin. He was 27. Upon arrival, he was told to check in with 25-year-old Michelle Robinson, Harvard Law class of '88.
And by multiple accounts, including his own, he was instantly smitten.
"I had never taken the train downtown before. It was raining that day," Barack Obama recalled their first meeting in a video message shown during the Oprah chat. "I wasn't fully equipped with an umbrella. The bottom line is, when I walk into Michelle's office, not only am I late, I'm also kind of damp. So it's not clear whether I made the best impression."
Michelle had been tasked with mentoring the new hire—"the luckiest break of my life," then President Barack Obama said in a piece about their first date for O Magazine. She, however, had assumed—judging by his unusual name and from all the hype she'd heard—that he would be "strange and overly intellectual."
"I remember being struck by how tall and beautiful she was," he said in O. "She, I have since learned, was pleasantly surprised to see that my nose and ears weren't quite as enormous as they looked in the photo I'd submitted for the firm directory."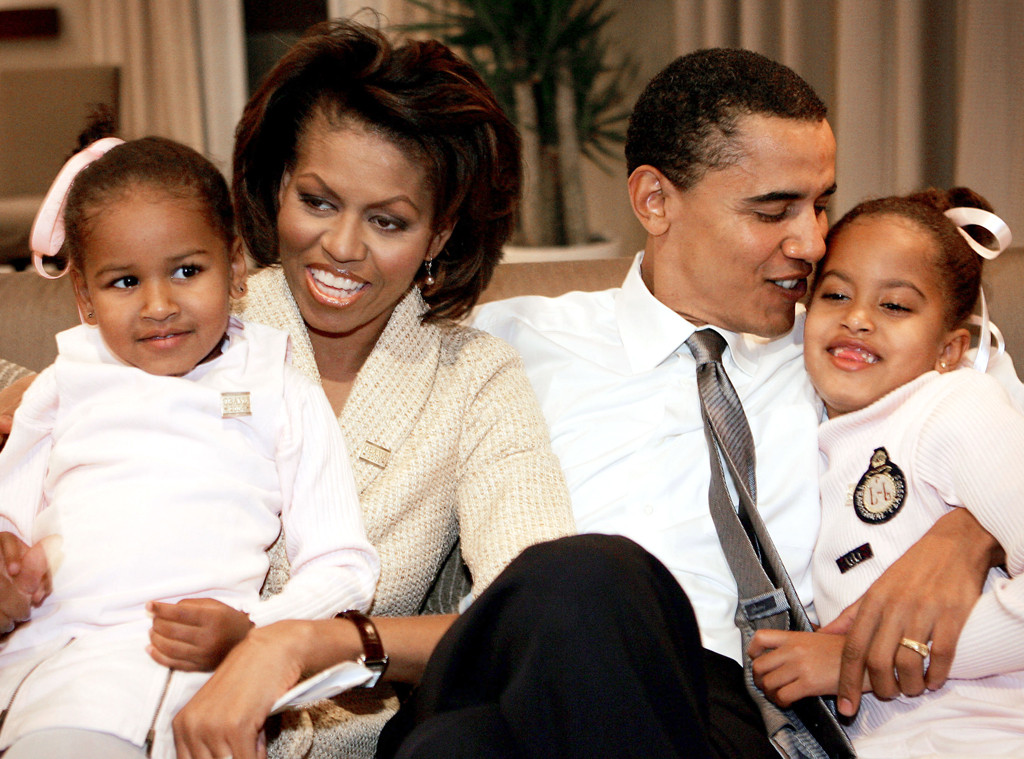 Scott Olson/Getty Images
Michelle Robinson had told her mother, Marian Robinson, that she was going to focus on her career and put dating on the back burner. Moreover, she was concerned that the only two black associates at the firm dating each other would look "pretty tacky," she told Mendell. (Sidley Austin partner Newton Minow told the Washington Post Magazine's Liza Mundy for her 2008 book Michelle that there were other black lawyers at the firm, including a partner, but he could see how Michelle might have thought otherwise.)
She even tried to set Barack up with a friend, but he wasn't interested.
"She was kind enough to take me to a few parties, and never once commented on my mismatched and decidedly unstylish wardrobe," he said in O. "I asked her out. She refused. I kept asking. She kept refusing," saying it was inappropriate.
He even offered to quit. Finally, she agreed to go for ice cream. There's a plaque now commemorating that momentous outing at Dorchester and East 53rd Street. It reads, quoting Barack in O: "On our first date, I treated her to the finest ice cream Baskin-Robbins had to offer, our dinner table doubling as the curb. I kissed her, and it tasted like chocolate."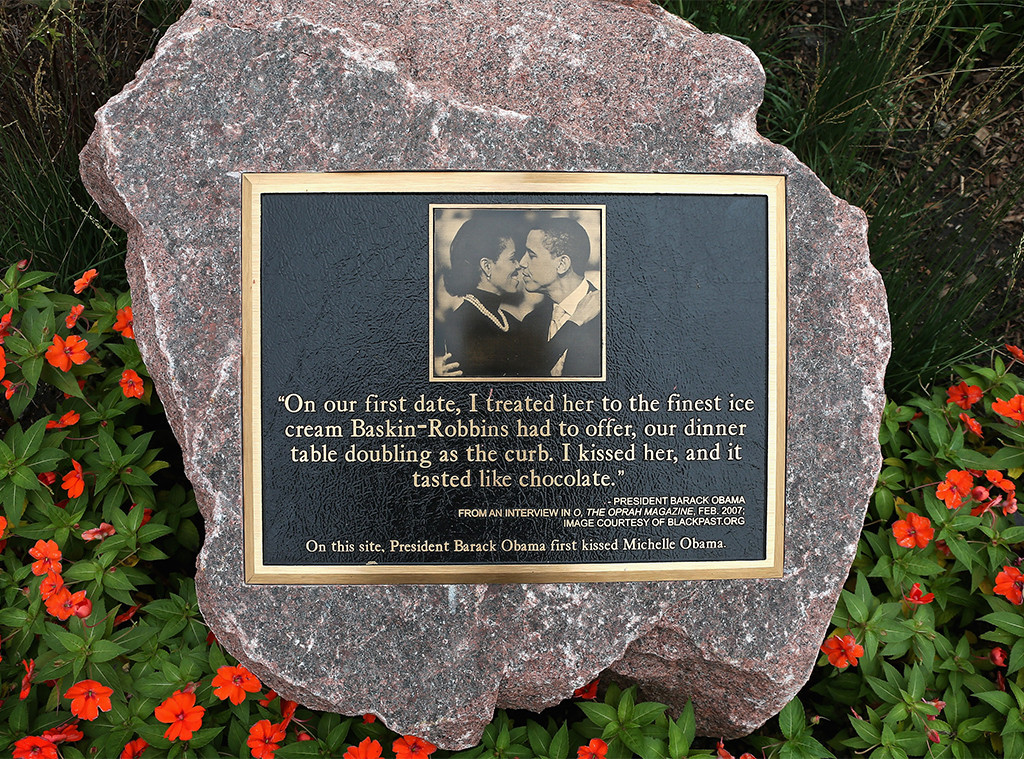 Scott Olson/Getty Images
But really, there could be plaques all over the city.
In Southside With You, Michelle's eager suitor picked her up in an old yellow Datsun—a car the future president really did drive—after inviting her to a meeting at which, as a community organizer, he was scheduled to speak at.
First they go to the Art Institute of Chicago to check out an exhibit, they have sandwiches, then she sees him speak (swoon, obviously), then they watch Spike Lee's Do the Right Thing (where they run into a colleague and his wife) and then they have ice cream—and their first kiss.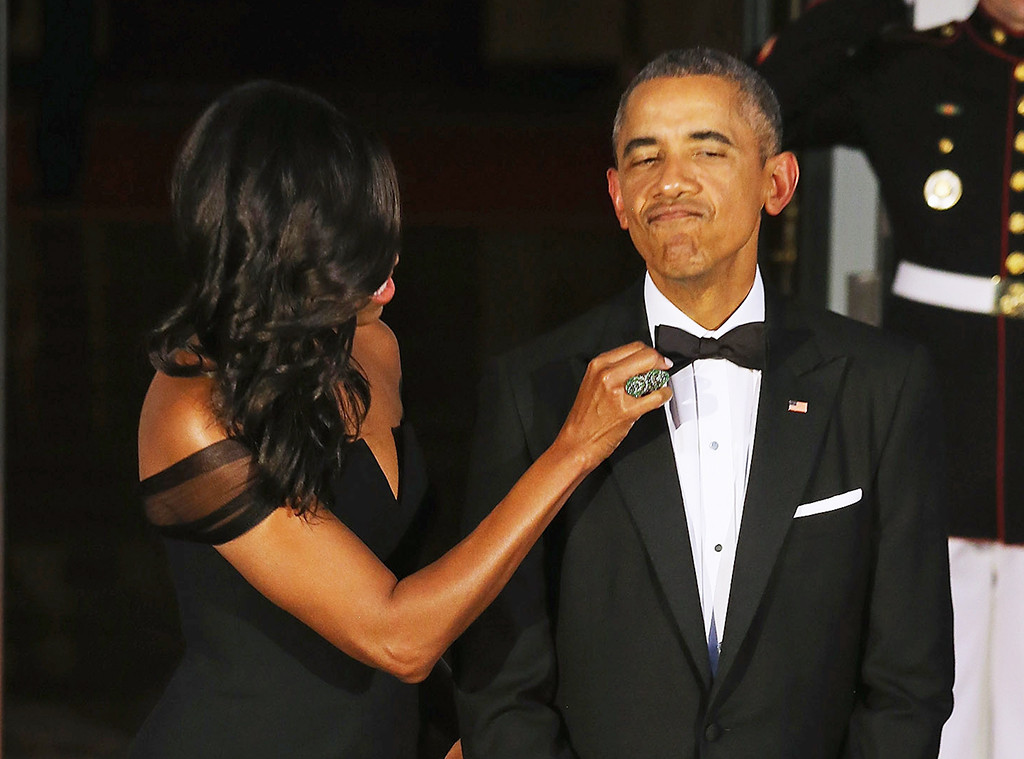 Chip Somodevilla/Getty Images
"It was a cool date, actually," Michelle said decades later in a White House promotional video. "We spent the whole day together. He was showing me all facets of his character. He showed his cultural side, and then we took a nice long walk down Michigan Avenue."
Source: Read Full Article